(Success Story) C Vanmathi cabbie's daughter and S Rajesh Kannan farmer's son, among UPSC toppers
---
(Success Story) C Vanmathi cabbie's daughter and S Rajesh Kannan farmer's son, among UPSC toppers
---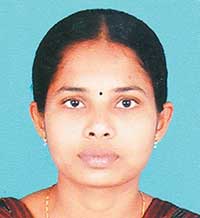 Among the 1,236 names on the UPSC final list this year is a paralysed cab driver's daughter and a farmer's son from Tamil Nadu.
C Vanmathi was at her father's hospital bedside in Coimbatore when news of her success arrived on Saturday. Her father, T N Chenniyappan, sustained a spinal injury two days after Vanmathi had finished the interview round. But he was beaming when he heard that his daughter secured the 152nd rank in the UPSC exam.
S Rajesh Kannan, was ranked much lower, at 767, but was equally happy. Rajesh said his father S Samayanan, a farmer, was his main source of encouragement and would keep him updated on current affairs.
"I am not well educated and my wife did not go to school. We worked to fulfil my daughter's wishes," said Chenniyappan who was injured in a fall 20 days ago. "I am very happy. Now I'm confident that I will get well soon." Vanmathi, who is from a family of cattle-rearers in Sathyamangalam, Erode, remembers how she used to sit on the back of a buffalo, imagining herself to be a collector. When she completed her Class 12, relatives suggested that her parents marry her off.
"For many people in my village, completing Class 12 was the biggest eligibility for marriage," she said. "But I stood second in my school and wanted to study further. I wanted to use my education to improve my family's situation as well as help society."
When asked what inspired her to become an IAS officer, Vanmathi said, "I used to watch the serial 'Ganga Yamuna Saraswathi' in which there was a lady IAS officer and I was awestruck," she said. "Another inspirational day was when the district collector came to my school when I was 15 years old. When I saw the kind of influence he had and the respect he got, I wanted to be someone like that."
Courtesy: The Times of India