(Success Story) Divya Prabhu (AIR Rank - 82) for Civil Services Examination 2013
(Success Story) Divya Prabhu (AIR Rank - 82) for Civil Services Examination 2013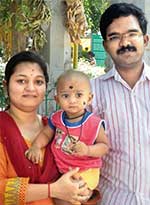 Divya Prabhu GRJ, 27, a 2010 Indian Forest Services Officer, has secured the 82nd rank in IAS. The UPSC declared the final results of the Civil Services Examination 2013 on its official website on Thursday. Divya Prabhu is the wife of Dr V Ramprasath Manohar, an IAS officer working as the Chief Executive Officer in Karwar, of Uttar Kannada district.
Divya is a BSc graduate in Agriculture from Tamil Nadu Agriculture University, Coimbatore. She is the daughter of G J Ramachandran, retired chief educational officer and B V Jeyanthi, Officer in ICDS, Social Welfare department in Chennai.
After her IFS training in Dehradun, she opted for the Karnataka cadre and has worked as the Assistant Conservator from 2012 in Bhatkal, Sirsi and Karwar and has been promoted as Divisional Forest Officer in January this year. She is currently on a six-month maternity leave.
Speaking over the phone to Bangalore Mirror, she said, "To be an IAS officer has always been my dream. I was in a dilemma whether to take the preliminary exam or not. I was nine-months pregnant last May, and the doctor had advised me not to travel. My centre was Goa, bordering Uttar Kannada district. I took the risk of travelling and answering the exams," she said.
Her husband and family has been very supportive. She said, "My son Akhilesh Ramkarthik was born on July 4. In August, the preliminary results were announced and I was selected for the mains to be held in December. Chennai was my centre. Post delivery, I realised that preparing for exams while sitting continuously for 4-5 hours as I did for the IFS exams was impossible. I was breastfeeding my child and the maximum time I could dedicate to study was probably one hour at a stretch.
" My family has been a big support. The main exams went on for a week and as I answered the exams I kept thinking if my child was hungry. I was lucky to have my parents there and my husband too visited me, when I was in Chennai.
Courtesy: Bangaloremirror.com