(Success Story) Komal Mittal (AIR Rank - 125) for Civil Services Examination 2013
(Success Story) Komal Mittal (AIR Rank - 125) for Civil Services Examination 2013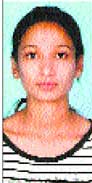 Four girls of Sonepat district have cleared the prestigious civil services examination conducted by the Union Public Service Commission (UPSC), results of which were declared recently.
Komal Mittal, a resident of Gurmandi locality of Sonepat, has secured 19th rank in her second attempt. In her first at tempt last year, the MBA from Sonepat University had fetched 125th rank.
Manisha Khatri, who hailed from Raipur village, secured 35th rank in her first attempt. She had done her schooling up to senior secondary from Hindu Vidyapeeth, Sone pat. Later, she moved to Gujarat to pursue LLB from National Law University, Gandhi Nagar.
Dr Ruhee Dugg, who works at Bhagat Phool Singh Government Women's Medical College, Khanpur Kalan, secured 176th rank. Ruhee, however, hails from Punjab.
Courtesy: India Today