(Success Story) N L Beno Zephine (AIR Rank - 343) for Civil Services Examination 2013
(Success Story) N L Beno Zephine (AIR Rank - 343) for Civil Services Examination 2013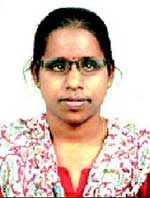 The dream is to enter the IAS cadre and N L Beno Zephine, who is visually impaired, is holding her breath until the marks for the Union Public Service Commission (UPSC) exam results are released in 15 days.
It was a tough few years of work, but Beno, 24, enjoyed it and has secured an all-India rank of 343 in the UPSC exams. "Preparing for the civil services made it easy for me to clear other competitive exams," she said.
She got a few books Brailled, but much of her preparation was done with the help of her father and friends. "She would insist that her father read the newspaper to her every morning, and she was an exceptionally sharp observer," said Sathya, MD of Strategy IAS Academy, who coached Beno to face the interviews along with experts at Manidhaneyam IAS Academy.
Courtesy: Times of India