(Success Story) Renu Raj, IAS Topper 2014 (AIR-2)
---
(Success Story) Renu Raj, IAS Topper 2014 (AIR-2)
---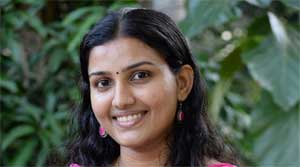 Doctor Renu Raj, who bagged the second rank in the civil services test on Saturday, said she had never expected to perform so well in the prestigious examination.
Raj, the 27-year-old daughter of a retired employee of the Kerala state transport corporation, said perseverance helped her crack the examination in her first attempt.
The native of Changanassery in Kottayam district currently works in an ESI hospital at Kalluvathukkal in south Kerala's Kollam district.
"Though I performed well in the examination and interview, I never expected such a position. It was really unexpected. I will use this great opportunity to serve the people well," an elated Raj told Hindustan Times.
"I want to tell aspiring candidates that perseverance has its reward," she added.
Raj said her first preference will be the Indian Administrative Service. "In the IAS, you can interact with people very well and serve the needy. Society has given me so much it is time for me to give back," she said.
She dedicated her success to her parents and husband, saying it was her childhood dream to become a civil servant.
"My father and husband, also a doctor, encouraged me. Initially it was self study. Later I joined the government-run state civil service academy for coaching," she said. Since she is a practising doctor, she could not go to a metro for coaching.
After completing MBBS from Kottayam Medical College in 2013, Raj joined government service last year.
"It was difficult to adjust (with) both. There was no other option. But I know hard work will always pay," said, Raj, whose younger sister too is a medical student.
"This was my first attempt. I was tense since night and even though I knew the results would be out by afternoon, I did not tell my parents," she said.
"I was even more tensed when I logged on to the website. My phone started ringing even before I could check the results as my friends and well-wishers told me that I had secured the second rank," she added.
Courtesy: Hindustan Times