Success Mantra : A Desire To Serve Society
Success Mantra : A Desire To Serve Society
Shah Faisal, a doctor by profession, has topped the UPSC exam this year. He tells Abhishek Ghosh what it takes to clear the prestigious civil services exam in the first attempt.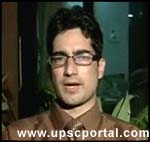 Ihad to turn water to cheese, says Shah Faisal, who is the first person from Jammu and Kashmir to come first in the UPSC exam. Faisal, who completed his MBBS only last year, insists that he became a doctor by default. And yet his is a story of passion finding its path.  Growing up in a village in Sogam, Kupwara, he says that he lacked the exposure that big city kids have, so he drifted into the medical profession. "In Srinagar, there is a craze about the medical profession and my father also wanted me to become a doctor, so I willingly complied," he adds.
It was during his stint in MBBS that he met Dr Abdul Ghani Mir — an IPS officer. More interactions ensued, and the drifting, freewheeler had found his calling. "You are always affected by your surroundings. The abject poverty around me and harsh living conditions had made me restless. When I met Dr Mir, it was as if I had found the key to the door. It was a eureka moment for me. I knew if I qualify for this I could contribute to society in a massive way," he says breathlessly. "We used to have long discussions on every subject under the sun and it helped shape my world-view, it widened my horizons and gave me a purpose."
After completing his MBBS degree, Faisal had just two months before the prelims. "I completely immersed myself in studies, shut out the rest of the world. I realised I had only two months to realise a long-cherished dream." As it happened May 17, 2009, the date of the prelims exam was also his birthday.
After he cleared his prelims, he was even more fired up and came to Delhi and joined the Jamia Hamdard Study Circle. "There, too, I continued with my hermitical ways, losing myself in course books and only listening to music — sufi, Kashmiri folk and Nusrat Fateh Ali Khan are his favourites — to unwind. I didn't step out much, kept a hawk eye on current affairs, reading newspapers, periodicals and books to keep myself updated." But aren't MBBS and IAS two very separate fields of study. "Yes, but both involve serving society, though the course content may be different. Also, I have benefited immensely from days when I studied in the medical college. We were required to study for long hours and under a lot of stress," he says, adding, "so I was already familiar with the studying conditions for the civil services' exam."
Faisal, who has several interests — reading poetry of Faiz, Iqbal and Rumi, learning French, reading psychology — had public administration and Urdu literature as his subjects. What in his view is an essential ingredient for any IAS aspirant? "Passion for knowledge and a desire to serve society," he says. "You need to have a voracious appetite for garnering knowledge; you must be tremendously interested in the goings-on of the world around you, as you try and make sense of it and have an itch to create a better society than how you found it," he says. "Also a sense of deep faith on one's abilities helps. Some IAS aspirants give themselves five years to compete, while I always thought it could be done in the first year itself," he adds.
He is deeply grateful to his late father, who inculcated in him the value of knowledge and learning from an early age, while his mother has been with him through thick and thin. "Both of them have been instrumental in me becoming the person I am today." In the future, Faisal wants to become a district magistrate but is not particular about the state where he would want to be posted, however Kashmir holds a special place in his heart.
Courtesy: Timesofindia.com