(Success Story) UPSC TOPPER 2015 Hrudaya Kumar Das (AIR-1079), Son of a BPL farmer in Odisha
---
UPSC TOPPER 2015 Hrudaya Kumar Das (AIR-1079), Son of a BPL farmer in Odisha
---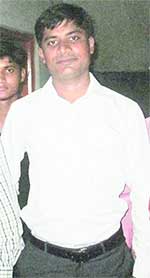 Poverty did not deter Hrudaya Kumar Das from achieving his hallowed goal. Das was not backed up by Convent and English Medium school education. However, perseverance and hard work paid dividends with Das tasting success in his third attempt in civil services examination.
"I feel proud being son of a hardworking farmer. We own 1.5 acre of irrigated farmland. My father still toils in crop fields to support the family. He had to dispose patch of land to meet with study expenses. My younger brother Rashmi Ranjan is studying MBA", Hrudaya said with tinge of emotion.
"In primary and high school level, I excelled in studies. However, in plus two science, I passed out second class. That was a setback which I could hardly digest. I was good in cricket. I had represented Kendrapara district team in Kalahandi cup inter-district cricket tournament. I was caught in dilemma whether to concentrate on Cricket or studies. But my father advised me for higher studies. Later I studied 5-year integrated MCA in Utkal University. Since then I never looked back," he said.
Hrudaya said much before civil service success, he was posted in Jajpur district as Prime Minster Rural Development Fellow (PMRDF). His job was to interact with tribals in Naxlite-infested areas and oversee implementation of poverty alleviation and welfare programmes in backward areas. The union rural development ministry was paying hefty salary for the job assigned to him, said Hrudaya.
Courtesy: Deccan Herald