(Success Story) V.P. Jeyaseelan (AIR Rank - 45) for Civil Services Examination 2013
(Success Story) V.P. Jeyaseelan (AIR Rank - 45) for Civil Services Examination 2013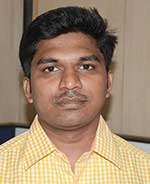 Of the 1122 candidates on the list of people who cleared the Civil Services Examination 2013, more than 100 are from Tamil Nadu.
V.P. Jeyaseelan, who is an official of Indian Revenue Service, secured the 45th rank in all India level and scored the highest among candidates from Tamil Nadu, making it to the prestigious Indian Administrative Service. He was the topper from Tamil Nadu.
The Union Public Service Commission on Thursday released the list of selected candidates who have been recommended for appointment to the Indian Administrative Service, Indian Police Service, Indian Foreign Service and Group A and B services.
Mr. Jeyaseelan said he got his inspiration from reading about a senior bureaucrat who worked for tsunami rehabilitation after 2004.
"I wrote the civil services examination in Tamil. This is a victory for Tamil. I am a strong advocate of learning in mother tongue. Language is not a barrier to success in civil services examination."
"My father V.Palanichamy was unable to do higher education after school. My mother P.Pandiammal also did not get opportunity for higher education. But they inspired me to attain the goal of IAS," said Mr.Jeyaseelan. "I did schooling in a rural area. Facilities in Chennai such as Manithanaeyam Free Coaching Centre, All India Civil Services Coaching Centre, Shankar IAS Academy and Prabha IAS Academy offered me guidance," he said.
Courtesy: The Hindu