The Gist of Press Information Bureau (PIB): January 2017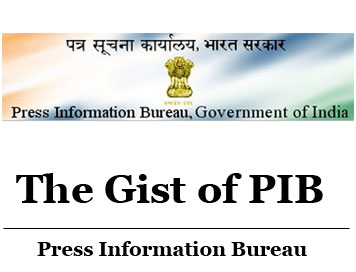 ---
The Gist of Press Information Bureau: January 2017
---
'International Conference on "Voter Education for Inclusive, Informed and Ethical Participation"
The first ever Global Conference on Voter Education titled "Voter Education for Inclusive, Informed and Ethical Participation" is being organized by the Election Commission of India in association with UNDP from 19th to 21st October, 2016 at New Delhi. The main purpose of the conference is to learn from the experiences of EMBs, government and non-government by way of sharing the best practices, policies and initiatives of voter education. All EMBs recognize the need for inclusive participation of voters through the exercise of informed and ethical choice as the key to strengthening the fabric of democracy. The Voter is the central point of the electoral framework and every voter must be thoroughly aware and educated about the electoral processes and procedures, so as to ensure his or her informed and ethical participation.
The three day event is to take place at Taj Palace, New Delhi on 19-20 October, while on 21st October a field tour has been planned for the visiting delegates.
PARTICIPANTS:
Election Management Bodies of 27 countries from across the globe will converge at this Conference to share experiences and develop novel practices.
The International delegation consists of 09 delegations headed by the respective Chairperson and 08 by the Election Commissioners and 10 by other Senior Officials.
Amongst the national participants the Senior officials from Ministries of HRD, Information and Broadcasting, Social Justice; External Affairs etc. whoare partnering ECI in its voter education programme of Systematic Voter Education and Electoral Participation (SVEEP) have been invited for the Conference.
The Special Invitees to the Conference consist of the Former CEC's of India, the SEC's, the CEO's from all states as well as the SVEEP Nodal officers of the State. The CSO's and NGOs who lend an integral support in ECIs mandate of Voter Education and Electoral Participation shall also be among the attendees.
An eclectic mix of representatives covering wide echelons of society will be gathered at the Conference to deliberate on the critical topic of Voter Education.
THE CONFERENCE:
The Conference will be inaugurated by the Hon'ble Chief Election Commissioner of India.
The Conference will deliberate upon 5 topics ranging fromElectoral Literacy to Enhanced participation by special categories of voters,Role of ICTin Voter Education and Strategies for Informed and Ethical Voting
International as well as national experts on the subject will be sharing insights during the Conference.
The ECI envisages a number of initiatives towards achieving international synergy in Voter Education and awareness. In this regard, the following components, during the Conference, shall be of significance:
i) GLOBAL PLATFORM: The Conference shall provide the first ever global platform for the sharing of best practices in voter education. The participants consist of a varied conglomeration of nations ranging from relatively young democracies to nations spreading across all continents of the world. This diverse variety of knowledge and experience would enable to bring out 'best of the best' global practices in the Conference.
ii) OVERSEAS INDIAN SURVEY CUM COMPETITOIN: With the Conference, the ECI also launches the NRI survey cum competition. The survey - competition is a novel way ahead in touching a chord with the Overseas Indians. It aims to not only gather useful data through the survey but also attract and engage NRIs about their voting eligibility and rights. This will also help guide the Commission in formulating further voting initiatives especially designed for the Overseas Indian population. The survey competition has designed by ECI in collaboration with TISS.
iii) The VoICE.NET: The Conference will see the launch of the ambitious project of VoICE.NET. It is aGlobal Knowledge Network on voter education with membership from participating EMBs and Organisation working in the field of elections and democracy - VoICE.NET. This network will provide an innovative wide platform to share knowledge resources, interact on discussion board, sharing platform for events and practices in member countries and also extend its knowledge and resource support to stakeholders e.g. CSOs, Departments and other organisations associated with elections besides Academic Institutions.
iv) THE EXHIBITION: An exhibition showcasing Voter Education tools and materials from India and across the world consisting of informational material, model polling station, provision of live voting on EVM, photos, videos, 3D models, interactive games developed by ECI shall be on show. The EVM and VVPAT have especially being demonstrated for the delegates on their request.
The substantial quantum of Voter Education material developed by ECI, the voter education guides/brochures, the compilation of Human Stories and other literature including the praiseworthy Braille brochures on voting education shall also be on display.
v) THE RESOLUTION: The Conference will also aim to achieve a Resolution to strengthen Inclusive, Informed and Ethical electoral participation among member countries with the help of Voter Education and outreach.
Sagarmala funds flagship project of Ro Pax Ferry Service in Gulf of Cambay, Gujarat As part of promoting coastal shipping in the country under Sagarmala programme, the Ministry of Shipping has sanctioned the Capital Dredging Project for Ro Pax Ferry Services between Gogha & Dahej, in Gulf of Cambay in Gujarat. The Ministry released Rs 58.50 Crore as first installment of grant-in-aid to Gujarat Maritime Board (GMB). The total project cost is estimated to be Rs 234 Crore and of which 50% will be funded by Centre Government under the Sagarmala programme.
The project would result in reduction in motorable distance of 231 kms between Gogha & Dahej to mere 31 kms and reduce the travel time from 7 hours to 1 hour only by crossing the Gulf in Cambay in 17 Nautical Miles. The initiative would not only reduce the travel time but also result in savings in fuel, reduction in CO2 emission and reduction in road congestion.
The project is first of its kinds in India as it will be executed in the area of world's 2nd highest tidal range. The project would open up new avenues in coastal shipping & tourism and help in socio-economic development of proximate areas. It would also help in utilisation of inland waterways through River Narmada for shipping goods from industries located upstream.
It is one of the flagship projects under Sagarmala which aims to increase share of waterways transportation in modal mix to 10 per cent from present level of 7 per cent by year 2025.
Prime Minister dedicates three Hydro Projects to the Nation
Prime Minister Shri Narendra Modi dedicated three flagship 800 MW Hydro Power Station of NTPC- Koldam, 520 MW Parvati Project of NHPC and 412 MW Rampur Hydro Station of SJVNL projects to the Nation in Mandi , Himachal Pradesh here . Shri Acharya Devvrat, Governor of Himachal Pradesh, Shri Vir Bhadra Singh, Chief Minister, Himachal Pradesh, Shri Jagat Prakash Nadda, Union Minister of Health and Family Welfare; Shri Piyush Goyal, Union Minister of State ( IC) for Power, Coal , New & Renewable Energy and Mines and eminent dignitaries were present on the occasion.
Appreciating the contribution of Public sector companies in country's growth, Prime Minister, Shri Narendra Modi said that these hydro projects will bring prosperity to the State of Himachal and other parts of the nation.
NHPC's Parbati-III Power Station is a run of the river scheme having a 43m high rockfill dam, underground Power House and 10.58 km long water conductor system. A net head of 326 meter is utilized to run four vertical Francis turbines with an installed capacity of 520 MW (4x130 MW). The power plant is designed to generate 1963.29 Million Units annually. The power generated from the Parbati-III Power Station is distributed to beneficiary states i.e. Himachal Pradesh, Jammu & Kashmir, Punjab, Uttarakhand, Uttar Pradesh, Haryana, Delhi, Rajasthan and Union Territory of Chandigarh. The Power Station is supplying 13% free power to home state i.e. 12% as home state share and 1% for Local Area Development fund. The completion cost of the project is around Rs 2600 crore and as on 30.09.2016 the total power generation is 1880 MU with revenue realization of Rs 816 crore.
With commencement of generation from four 200 MW units, NTPC- Koldam has achieved capacity of 800 MW and provides peaking capacity to the Northern grid. It shall annually generate 3054 GWh electricity at 90% dependable year basis. Twelve percent of the electricity generated from Koldam is being supplied to the home state Himachal Pradesh free of cost while 1 percent to the state on account of Local Area Development fund. All the Project Affected Families are being provided 100 units of electricity every month free of cost which accounts for 0.62 percent of the total generation. Thus a total 13.62 percent of electricity generated from the plant is supplied free of cost to Himachal Pradesh, remaining power supplied to other beneficiaries namely Delhi, Haryana, Punjab, Rajasthan, Uttar Pradesh, Himachal Pradesh, Jammu & Kashmir, Uttrakhand and Chandigarh.
SJVN's Rampur Project (412MW) in Kullu district will be operated in tandem with Nathpa Jhakri Hydro Power Station (HPS). This project will provide 13 percent free power to the state of Himachal Pradesh.
Sports Authority of India collaborate with some identified universities
Sports Authority of India (SAI) will collaborate with some identified universities across the country to improve standards of training with a view to achieving excellence in sports. For this purpose, each Regional Director of SAI will identify one or two universities with good sports infrastructure and sporting traditions. This decision was taken at a meeting of Heads of SAI Regional Centres, Academic Institutions, SAI Training Centres (STCs) and Special Area Games (SAG) Centres held in New Delhi . The meeting chaired by the Union Minister of State (I/C) for Youth Affairs & Sports, Shri Vijay Goel, was attended by Secretary (Sports), Shri Rajiv Yadav, Director General, SAI, Shri Injeti Srinivas, and senior officers from the Ministry of Youth Affairs & Sports and SAI.
Collaboration between SAI and chosen universities is imperative in view of the fact that several universities across the country have excellent sports infrastructure which is not being optimally utilized. Such collaboration is also essential in view of the fact that in big sporting nations like the USA, international athletes mostly come from their universities.
At the meeting, ways were discussed to improve the effectiveness of sports promotion schemes of SAI and providing the best possible facilities to SAI trainees. It was decided to closely monitor the performance of SAI coaches, take steps to constantly upgrade their skills and also to incentivize them. Every SAI Centre has been asked to select sports disciplines for focused attention, keeping in view factors like infrastructure and local traditions. The issue of identification of talent by SAI was also discussed at length. It was decided that SAI would pro-actively hunt for talent by sending its teams to interior areas. Sports science experts will also be part of such teams. SAI will also collaborate with Defence forces to ensure that talented children get selected for nurturing in SAI Centres.
In his remarks at the meeting, Shri Vijay Goel emphasized the need for SAI Centres to closely work with the State Governments and involve local representatives of people so that concerted and coordinated efforts can be made for achieving sports excellence. He also stressed the need for seeking contribution of the corporate sector to upgrade facilities at the SAI Centres. He called for initiating steps to utilize every nook and corner of SAI complexes. He suggested that SAI facilities should be opened to public without disturbing their normal activities of training.
This was after a gap of several years that a Union Sports Minister took a meeting of field functionaries of SAI to understand the problems being faced at the grassroots level and take steps for improvement in future.