I wear Hijab as Manmohan wears turban : ZAINAB SAYEED, UPSC Topper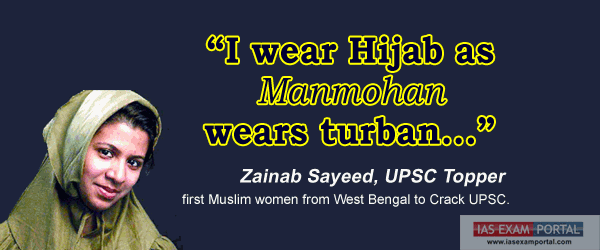 The success story of Zainab Sayeed, the first Muslim women from West Bengal who cracked the Indian Civil Services exams.
In the interview given to various newspapers, Zainab said, besides other questions, there was one on her dress preferences. She said she was unnerved on the question, and answered it with full confidence, and in her own style.
"Besides saying one should wear clothes one feels comfortable in, I cited the instance of a prime minister who wore a turban which is also a religious symbolism", Zainab Sayeed, 
one among the only 38 Muslims who cleared the 2014 UPSC exams, said.
Courtesy: ummid.com