Indian Cinema: Art & Culture for UPSC Exams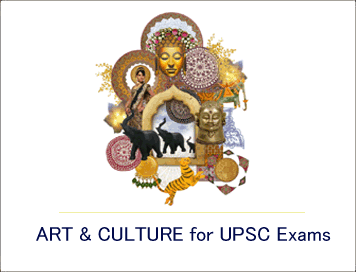 Indian Cinema : Art & Culture for UPSC Exams
Indian Cinema
!      India tops the world in respect of production of feature films.
!      The film producing centre in Mumbai is known as Bollywood.
!      The first talkies film Alam Ara was produced in 1931 by Ardeshir Irani (1886-1969).
!      Dada Saheb Phalke, the producer of India's first indigenous feature filmRaja Harichandra (1913) is considered as the father of Indian Cinema.
!       India's first cinemascope film is Kagaz ka Phool 1959 by Guru Dutt.
!       India's first 70 mm film is Around the World (Hindi) 1967 by Raj Kapoor.
!      The most prestigious award in the Indian film world is Dada Saheb Phalke Award instituted by the Government of India for life long con- tributions to Indian Cinema.
!      Swarna Kamal (Golden Kamal) is the name of the award given to the best film of the year by the Government of India.
!      The first winner of the Dada Saheb Award was Devika Rani Roerrch (1969). She is known as the Lady of Indian Film.
!      Adi Shankara directed by G.V. Iyer is the first sanskrit film in India.
!      The first actress of the Indian Cinema to win a Padmashri Award was Nargis Dutt (1958).
!      Sivaji Ganesan was the first Indian to win the Chevalier Award instituted by the French Gov- ernment.
!      M.G. Ramachandran was the first film star to become the Chief Minister of an Indian State.
!      The first International Film Festival of India was held in 1952.
!       First Indian 3-D Picture is Malayalam cinema My Dear Kuttichathan.
!      Filmmakers such as Shyam Benegal contin- ued to produce realistic Parallel Cinema throughout the 1970s, alongside Satyajit Ray, Rit wi k Ghat ak,  Mr inal Sen,  Buddha deb Dasgupta and Gautam Ghose in Bengali cin- ema; Adoor Gopalakrishnan, John Abraham and G. Aravindan in Malayalam cinema; and Mani Kaul, Kumar Shahani, Ketan Mehta, Govind Nihalani and Vijaya Mehta in Hindi cin- ema.
Films Division
Th Film Division was constituted in January 1948  by rechristening the erstwhile Informa- tion Films of India and the Indian New Parade set up in 1943. Its headquarters is in Mumbai. Films Division produces documentaries, short films, animation films and news  magazines. The Division also sells prints, stock shots, video cassettes and distribution rights of docu- mentaries and feature films in India and abroad. Apart from production of films, Films Divi- sion also gives on hire, its studio, recording theatre,  editing  rooms  and  other  cine equipments to private film makers. The aim and objectives of the Division, focused on national   perspectives, are to educate and motivate people in the implementation of na- tional  programmes and to protect the image of  the land and the heritage of the country to Indian and foreign audiences.
Central Board of Film Certification
The Central Board of Film Certifica tion (CBFC) was set up under the Cinematograph Act 1952. CBFC certifies films for public ex- hibition in India.  It consists of a chairperson and twenty five other non -official members. Smt. Sharmila Tagore is the present Chairper- son of CBFC. Its headquarters is in Mumbai. It  has nine regional offices in Bangalore, Kolkata ,  Chennai ,  Cuttack,  Guwahati , Hyderbad,   Mumbai , New Delhi and Thiruvananthapuram.
National Film Development Corporation Limited (NFDC)
The National Film Development Corporation Limited was incorporated in 1975. It was formed by the Government of India with the primary objective of planning and promoting an  organized, efficient and integrated devel- opment of the Indian film industry. NFDC was reincorporated in the year 1980, by merging the Film Finance Corporation (FFC) and  In- dia n Motion Picture Export Corporat ion (IMPEC) with NFDC. The erstwhile Film Fi- nance Corporation was set up in the year 1962. It was  formed with the primary objective of extending finance to young talented film mak- ers for film production. The Indian Motion Picture Export Corporation was an autono- mous body. It was set up to regulate the im- port and export of films and canalization of raw stock into the country. The NFDC has so far produced over 200 films. These films in various Indian languages, have been widely acclaimed and have won many national and international awards. The Corporate office of NFDC is at Worli, Mumbai. It has three Re- gional Offices at Chennai, Kolkata and Delhi and a Branch Office at Thiruvananthapuram.
Directorate of Film Festivals
The Directorate of Film Festivals was setup under the Ministry of Information and Broad- casting in 1973 with the  prime objective of promoting good cinema. The activities of Directorate of Film Festivals include
a)    The International Film Festival of India
b)    The National Film Awards and the Dada Saheb Phalke Award
c)    Cultural Exchange Programme and Or-ganising screening of Indian  films through the mission abroad.
d)    The  selection of Indian Panorama.
e)    Participation in international film festi- vals abroad.
f)    Special film exposition of behalf of the Government of India
g)    Print collection and documentation. These  activities provides a unique platform for exchange of ideas, culture and experi-ences between India and other countries in the field of Cinema.
National Film Archive of India
The National Film Archive of India was es- tablished as an independent media unit under the Ministry of Information and Broadcast- ing in February 1964 with the following aims and objectives
1)    To trace, acquire and preserve for pos- terity the heritage of national cinema and build up a representative collection of World Cinema.
2)    To classify and document data related to  film, undertake and encourage re- search on cinema and publish and dis-tribute them; and
3)    To act as a centre for dissemination of film culture in the country and to ensure the cultural presence of Indian Cinema abroad.
Children's Film Society, India (CFSI)
Children's Film Society, India was established in  1955 to provide value - based entertain- ment to children through the medium of films. CFSI  is engaged in production, acquisition, distribution, exhibition and promotion of chil- dren's films.   The Head office of the CFSI isin Mumbai with branch offices at New Delhi and Cheannai. CFSI holds, its own Interna- tional Children's Film Festival once every two years. The 16th edition of this Festival was held in Hyderabad in November 2009. 70 films from 20 countries were selected  for partici- pation in the festival. 350 children participated in the festival from across the country.
.