Musical Festivals: Art & Culture for UPSC Exams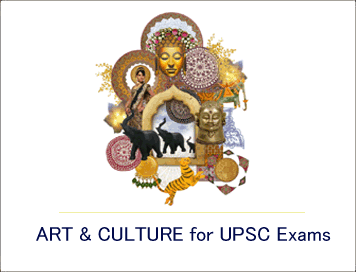 Musical Festivals: Art & Culture for UPSC Exams
MUSICAL FESTIVALS:
Chembai Music Festival  : Chembai music festival is held annually in Thiruvananthapuram in  Sept ember  in  memory  of  Chembai Vaidyanath Bhagawather. The highlight of the festival is group singing of Saint Thyagaraja's 'Pancharatna Krithis' on Dasami day by several leading artists. A group concert mark the end of the festival on the night of Ekadasi. This includes five of Chembai's most favourite songs.
Dover Lane Music Festival : Dover Lane Music Festival one of the largest Indian Classical musical events is being held in Kolkata every year between January 22 and 26. This festival provides a wonderful platform for t he younger generati on to come and perform with the best in the art. The music maestros from all over the country get together and create magic in front of an enormous crowd. The people of Kolkata consider this festival as heritage event.
Gunidas Music Festival : An internationally known music festival Gunidas Music Festival was first presented way back in 1977 in Mumbai. Now it is held in Mumbai, Kolkata and Delhi every year. Top classical musicians of  India, both vocalists and instrumentalists perform in this festival.
ITC Music Festival : ITC Sangeet Sammelan started in 1971.The  festival  has  a participation of eminent musicians. The Sammelan is conducted by the ITC Sangeeth research Academy. It is held in different places in India. A substantial cash award is given to one of the oldest living musicians of stature during  this  Sammelan.  This  award  is recognised as a great honour in the world of Indian classical music.
Saptak Music Festival :  Saptak Music Festival is conducted on the first week of January in Ahmedabad every year. This festival was inaugurated by Pt. Ravi Shankar in  1980. All leading   vocalist as well as instrumentalists participate on this  platform regularly. Some of the innovative features of this festival have been  instrument and dance ensembles, Tala Vadya Kacheri, Rajasthani and Punjab Folk music. Saptak also tries to keep alive  Thumri and Dhrupad and instruments like Sarangi and Pakhawaj by inviting the older generation of artists specialising in these fields.
Savai Gandharva Music Festival : Savai Gandharva Sangeet Mahotsav is celebrated in Pune usually in December. It is held in commemoration of Pandit  Rambhan Kundgolkar, the eminent Khyal Singer. His student, Pandi Bhimsen Joshi conducts the festival to observe his Gurus death anniversary. Many eminent classical music artists from all over the country participate in this festival.
Tansen Music Festival : Tansen Music Festival is held in  Gwalior in memory of the great  musician  Tansen,  the  father  of Hindustani Music especially the Drupad style. The festival is held, near the tomb of Tansen at Behat, Gwalior in the month of November/ December every year.   Renowned classical singers from the country gather and perform for five night long sessions.
Thyagaraja Music Festival : Thyagaraja Music festival is held in Thiruvaiyaru (situated 13kms from Thanjavur in Tamil Nadu), where the great saint and music composer Thyagaraja lived and attained Samadhi. Here an eight day music festival is held every year towards the end of January. The venue is near his Samadhi on the banks of river Cauvery.  This carnatic music  festival attracts music lovers from all corners of the country.
Chennai music and dance festival : Chennai music and dance festival is a celebration of classical music and dance of South India held during   mid December to mid January in Chennai, Tamil Nadu. The festival is held at a number of venues around  the city by various Sabhas or organisations. Many eminent artists from various   parts of   India participate in this festival. Performances  include vocal and instrumental music, dance - sole,  and group, both by Junior and senior artists.
Gharanaa Music Festival : Gharana is an annual festival of  Hindustani classical music held in  January in Chennai. The festival is usually conducted at Museum Theatre in Egmore, Chennai annually for three days. Many eminent Hindustani music maestros perform in this music festival. The aim of this festival is to initiate South Indian music lovers with the Hindustani music, especially the Dhrupad style.
Ellora Ajanta Aurangabad Festival : It is a festival of dance and music held in November in Soneri Mahal in Aurangabad. This festival showcases a mix of classical and folk - dances, instrumental, vocals milajula mushaira etc. from the best talents in Indian music and dance. India's renowned artists perform their talents in this festival.
Soorya Music Festival : The Soorya classical music and dance festival is conducted for 10 days every years in Trivandrum, Kerala. It starts from Ist October to 10th October. The festival is organized by Soorya stage and Film Society founded by Soorya Krishnamoorthy. Renowned   dancers and musicians from all over India participate in this festival.
Swathi   Music  Festival : Swathi Sangeethotsavam is a week long festival of music  celebrating  the  compositions  of Maharaja Swathi Thirunal. The festival is held from   6 to 12 January every year at the courtyard of Kuthira Malika, Trivandrum. The event feat ur es  Hi ndus ta ni and Ca rnat ic classical  music. The festival is conducted by HH Sri. Rama Varma Maharaja of Travancore Trust.
.