Paintings of India: Art & Culture for UPSC Exams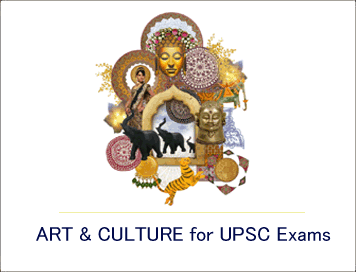 Paintings of India: Art & Culture for UPSC Exams
PAINTINGS OF INDIA
The tradition of paintings has been carried on in the Indian subcontinent since the ancient times. With time, Indian classical paintings evolved to become a sort of blend of the various traditions influencing them.
Indian  paintings  provide  on  aesthetic continuum that  extends  from  the  early civilization to the present day. In the beginning Indian painting was essentially religious in purpose. But as year passed by Indian painting became a  fusion of various culture and traditions. During the colonial  era,  Western influences started to make an impact on Indian art. By the time  of Independence in 1947, several schools of art in India provided access to modern   techniques and ideas. Galleries were established  to showcase  these artists. Indian Art got  a boost   with the  economic liberalization of the country since early 1990s. Artists from various   fields now started bringing in varied styles  of work.Post liberalization. Indian art thus  works not only within the confines to academic traditions but also outside it.
GENRES OF INDIAN PAINTING
Cave Painting : Cave paintings of India date back to the prehistoric times. The finest examples of these paintings comprise of the murals of Ajanta, Ellora, Bagh, Sittanavasal etc. It reflect an emphasis on naturalism.
Madubani Painting : Madhubani painting originated in a small village known as Maithili of Bihar. Initially, the women folk of the village drew the paintings on the walls of their home, as an illustration of their  thoughts, hopes and dreams.
Miniature Painting : Miniature paintings are handmade paintings, which are quite colourful, but small in size.   The peculiarity of these paintings is the  intricate and delicate brush work, which lends them a unique identity.
Mughal Painting : Mughal painting is a particular style of Indian painting, generally confined to illustrations on the book and done in miniatures. It emerged, developed and took shape during the period of the Mughal empire. Mughal  painting  reflects  an  exclusive combination of Indian, Persian and Islamic styles.
Mysore Painting : Mysore painting is a form of  classical South Indian painting, which evolved in the Mysore city of   Karnataka. These paintings are known for their elegance, muted colours, and attention to detail. The Themes for most of these paintings are Hindu Gods and Goddesses and scenes from Hindu mythology.
Rajput Painting : Rajput painting originated in the royal states of Rajasthan. Each Rajput Kingdom evolved a distinct style, but with certain common features, Rajput paintings depict a number of  themes, events of epics like the Ramayana and the Mahabharata, Krishna's life, beautiful landscapes, and humans . Mi nia t ur es  were the prefer red medium of Rajput painting.
Tanjore Painting : Tanjore Painting is one of the most popular forms of classical South Indian Paintings. It is the  native  art form of Thanjavur (also known as Tanjore) city of Tamil-Nadu. Thes e dense  composition, surface richness and vibrant colours of Indian Thanjavur paintings distinguish them from the other types of   paintings.   The themes for most of these paintings are Hindu  Gods and Goddesses and scenes from Hindu mythology.
Pattachitra : Pattachitra refers to the folk painting of the state of Orissa, in the eastern region of India.'Patta' in Sanskrit means 'Vastra' or   'Clothings' and 'Chitra' means paintings. The tradition of Pattachitra is closely linked with the worship of Lord Jagannath. The painters use vegetable and mineral colours without going for factory made poster colours. They prepare their own colours.
Bengal schools of painting : The Bengal School of Art was an influential style of art that flourished in India during the British Raj in the early 20th Century. It was associated with  Indian   nationalism,  but was  also supported and promoted by many British art administrators. The Bengal School's influence in India declined with the spread of modernist ideas in the 1920s.
PERSONALITIES OF INDIAN PAINTING
Rabindranath Tagore (1861 -1941)   : He started painting from 1893 onwards and emerged as a creative exponent of graphic art in 1928. He had a flair for calligraphy. His paintings and drawings are generally of small sizes. He used dominant black ink lines. Tagore's best known painting, Bharat Mata, depicted a young woman, portrayed with four arms in the manner of Hindu, deities, holding obj ects   symbolic   of   India's   national aspirations.
Abanindranath Tagore (1871 -1951) was a gifted landscape and portrait painter. His first expression of paintings was Radhakrishna series. His set of paintings called Krishnalila (1 896)  is a s ynt hesi s of t he Indi an a nd European styles.  His Arabian Nights series (1930) is among his most renowned works. He established the Indian Society of Oriental Art in 1907.  He advocated the use of Indian themes in modern painting in India. His other important paintings include : The Lovelorn Yaksha, the Omar  Khayyam series, A Drop of  Tear on a Lotus Leaf, Devadasi, Sun worship etc.
Nandlal Bose (1882 - 1966) was the student of Abanindranath Tagore. He was a staunch nationalist. He preferred oriental rather than western style of painting. He was  influenced by the Upanishads, Ajantha Paintings, Mughal Miniatures. He fused these with Chinese and Japanese techniques.He focused on the different levels of  individual creativity and created a new conceptual   base for Indian Art.  His work Suttee won him a prize in the exhibition of Indian Society of Oriental Arts.
Jamini Roy (1887 - 1972)   was a very renowned Indian  painter,  who was  greatly impressed by the kalighat paintings. He used firm and majestic curves in simple   forms. His pictures are bold and statre. He used mineral and vegetable dyes popularly used in the villages to identify with the village ethos. He  used cloth, wood and other materials in place of the canvas. He is the recipient of the Padma Bhushan Award (1955).
Amrita Shergil (1913 -1941) was one of India's first modernist painters. Her work showed the fusion of the Eastern and Western style. Her painting shows her concern for poverty.   She   used   real   models   and monochromatic colour attimes  for  her paintings. Some of her famous paintings are Bride's Toilet, Hill women, Siesta, Nudes, Brahmacharis etc. She died at the age of 28.
S.H. Raza (1922) : Syed Haider Raza is an eminent Indian Artist who has lived  and worked in France since 1950. His works are mainly abstracts in oil or acrylic, with a very rich use of colour. He was awarded the Padmashree and Fellowship of the Lalit Kala Academy in 1981 and Padma Bhushan in 2007.
M.F. Hussain (1915) is considered as India's leading artist. He paints in black social environment, often using distorted human figures, horses and objects. A times he uses highly violent distortions  in form and colour to display emotions. His famous work include Ramayana, Mahabharata, Mother Teresa and images of the British Raj.   His works show the influence of Picasso, Gris and Leger.
Tyeb Mehta (1925 - 2009) was a famous Indian painter. His noted   works were the ' Diagonal  Series '  Santiniketan,  Kali, Mahishasura etc.  He was  part of the noted Bombay progressive Artists Group.
Satish Gujral (1925-) : He is a painter, sculptor, muralist and architect in one.   He works with several mediums like paint, clay, ceramic, wood, glass and metal. His dynamic social - realistic paints can be seen in the paintings of partition (revolution) whichs hows  influence  of Mexican  grotesque distortion.       He is   one   of   the   few, contemporary artist who is influenced by socio- political   events. He is a powerful ex pr essionist .  He  was  a warded  Padma Vibhushan in 1999.
Prakash Karmakar (1933) : One of the most original and outstanding painters of contemporary India. The rich inheritance of Indian art and the dynamic spirit of the modern age can be seen in his works.   His works showed the fusion of Western and Eastern style at the same time retaining the authentic stamp of his individuality.
Dhiraj Choudhury (1936 -) is an idea - oriented artist with a remarkable capacity to immerse her artistic consciousness into suggested themes. He has held over 75 solo exhibitions in major cities of India, 12 one man shows abroad including France, the United Kingdom, the US, Switzerland and Singapore. He was the only Indian participant in the 1976 Geneva  Exhibition of Art.  His recent works include a series called " Love at the threshold of the new Millennium" which has collections like 'world without love, Love' and 'Nothing is  beautiful than love'. He had won many awards including the National award of the Lait Kala Academy.
Jatin Das (1941 -) is from Orissa. He has  to his credit formidable works of art produced in the last forty years. His paintings are mainly involved in the expression of 'the man - women relationship' and to some extent birds and animals.
Jahar Das Gupta (1942) is a remarkable painter. His drawings and paintings  are straight, firm deep - rooted and massive in meaningful message. He had his early training in arts and painting in Shantiniketan. Within a period of three years, after getting his diploma in  painting,he organised his first one-man show at Birla Academy, Kolkata.
A. Ramachandran (1935- ) is a renowned and gifted Indian painter born in  Attingal, Kerala. He is a figurative painter, who was influenced by the murals of Kerala temples and trib alart . He used light and shade technique. As a painter, his strong command over lines, colours and forms create an exciting visual drama. His canvases are vibrant with a sense of teeming, burgeoning life.   He was awarded the Padma Bhushan in 2005, and in 2002, he was elected a Fellow of the Lalit Kala Academy
Raja Ravi Varma (1848 - 1906) : Raja Ravi Varma is considered as one of the greatest painters in the history of Indian  Arts. He provided a vital link  between the traditional Indian art and the contemporary art. He introduced oil painting in India.  Ravi Varma is particularly noted for his paintings depicting episodes from the story of Dushyanta and Shakuntala, and Nala and Damayanti, from the Mahabharata. Raja Ravi Varma was fas cinated  by  the  power  and  forceful expression  of  European  paintings .  His paintings are considered to be among the best examples of the fusion of Indian traditions with the   techniques of European academic art
.