Current Affairs for IAS Exams - 01 November 2020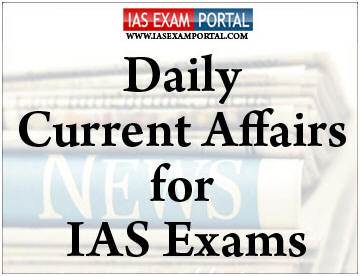 ---
Current Affairs for IAS Exams - 01 November 2020
---
::NATIONAL::
---
Prime Minister inaugurates seaplane services to Statue of Unity
Prime Minister launched the country's first seaplane service between the Statue of Unity near Kevadiya in Gujarat's Narmada district and Sabarmati Riverfront in Ahmedabad. 
The 19-seater seaplane will be used for flights between the Sabarmati riverfront and Kevadia as a part of the regional connectivity scheme. Initially, the plane will make four trips a day.
DGCA regulations:
The twin-engine Otter aircraft operated by SpiceJet for the seaplane service is nearly 50-years-old, though India's aviation regulatory body, the DGCA, has reservations on allowing planes older than 20 years to be imported into the country.
The DGCA's Civil Aviation Requirements or rules require pressurised aircraft imported and used in passenger services to not be older than 18 years. The age limit for cargo aircraft is 25 years.
The DGCA explains that the reason for imposing age restrictions is to ensure aircraft "does not have problems of corrosion, fatigue, metal fatigue, cracks" which can be missed even during major maintenance checks. 
However, it recognises that foreign countries operating aircraft older than the design-economic life may be better equipped than India to ensure their proper upkeep and modifications as per advice of manufacturers and regulatory bodies.
The Kerala government also proposed seaplane services in 2013 through Kerala Tourism Infrastructure Limited, but it failed to take off due to protests from fishermen. 
A few private entities, including Meh Air provided the service in Andaman and Nicobar and Lakshwadeep islands, but these wrapped soon after because of lack of commercial viability.
Public Affairs Index 2020
Kerala was adjudged the best governed state in the country while Uttar Pradesh ended at the bottom in the large states category, according to the Public Affairs Index-2020 released by the Public Affairs Centre in Bengaluru.
Public Affairs Index(PAI) is a data driven platform to rank States/UTS on governance. PAI has been developed by the not-for-profitPublic Affairs Centre (PAC).
Governance performance is analysed in the context of sustainable development defined by three pillars ofequity, growth and sustainability.
In large states category: Kerala, Tamil Nadu, Andhra Pradesh are top three. Uttar Pradesh, Odisha and Biharwere at the bottom.
::ECONOMY:: 
---
Rural Development Fund
The Union government's decision to withhold rural development fee from Punjab, and letters asking the Punjab Government to explain its utilisation of the Rural Development Fund (RDF) that it gets largely from the Food Corporation of India (FCI) has enraged the state government. 
Punjab Minister for Food Supplies claims the Centre is hitting back at the state for its opposition to the new farm laws. 
What is Rural Development Fund or RDF?
RDF is the 3 per cent cess levied on the purchase or sale of agricultural produce under the Rural Development Fund Act, 1987 which is executed by Punjab Rural Development Board (PRDB) with the Chief Minister as its chairman.
What is Rural Development Board (RDB)?
The RDB was incorporated in April 1987 under Rural Development Act, 1987 and is mandated with the promotion of better agriculture, and granting relief for the loss and damage to agricultural produce. 
It also provides the facility of streets lights, dharamshalas, panchayat ghars, canals and drains, government health infrastructure, drinking water, sanitation, and government educational institutions in rural areas.
Sources and usages the fund:
It comes mainly from central government's purchase agency, Food Corporation of India, which buys around 13 million tonnes of wheat and 16 million tonnes of paddy every year.
This fund is supposed to be used for the creation and maintenance of rural infrastructure in and outside mandis. But there have been charges in the past that it was diverted by the state for other purposes.
Why has the central government suspended this fund?
The central government, in a letter from the Union Ministry of Consumer Affairs, Food and Public Distribution, has observed that the fund is being diverted, and has asked the state government to explain how it is utilising this money. It has also not made any provision for this fund in the cost sheet that it has sent to the state.
Why is the Punjab government fuming?
The Punjab government was to give the earnings from RDF to pay interest on a loan of Rs 4,500 crore it has taken from various banks to pay for debt waiver to farmers. If this fund is not received by the state, it will have to dip into its depleting coffers to pay for this interest.
CLICK HERE FOR FULL CURRENT AFFAIRS (Only for Course Members)
::INTERNATIONAL::
---
European Commission signs pact with ICSSR
The European Commission and the Indian Council of Social Science Research (ICSSR) have signed a new implementing arrangement to enhance scientific cooperation encouraging top Indian social scientists to join research teams in Europe, funded by the European Research Council (ERC) on a temporary basis.
Arrangement is to enhance scientific cooperation encouraging top Indian social scientists to join researchteams in Europe, funded by European Research Council (ERC) on a temporary basis.
Founded in 2007, ERC aims to encourage the highest quality research in Europe through competitivefunding and to support investigator-driven frontier research across all fields.
ERC is a flagship component of Horizon 2020, European Union's (EU) Research Framework Programme for2014 to 2020.
It will also help in providing cooperation under EU next research and innovation programme 'HorizonEurope' (2021-2027).
Horizon Europe is an €100 billion research and innovation programme to succeed Horizon 2020.
---
::SCIENCE & TECHNOLOGY::
3D atomic map of novel coronavirus replication mechanism
In the coronavirus SARS-CoV-2 is an enzyme called the main protease, which drives its replication once it infects the human cell. 
For the first time, scientists have completed a 3D map that reveals the location of every atom in the molecule of this enzyme. 
The mapping was done by researchers at the Oak Ridge National Laboratory under the US Department of Energy. 
As Covid-19 cases surge again in several countries, this 3D mapping will allow scientists to better understand how the coronavirus behaves, and how it can be stopped.
SARS-CoV-2:
SARS-CoV-2 expresses long chains of proteins. When these chains are broken down and cut into smaller strands, it enables the virus to reproduce. This task is performed by the main protease. 
Its structure: two identical protein molecules held together by hydrogen bonds. If a drug can be developed that inhibits or blocks the protease activity, it will prevent the virus from replicating and spreading to other cells in the body.
Key findings:
Researchers used a technique called neutron crystallography. The site containing the amino acids where the protein chains are cut, these experiments revealed, is in an electrically charged reactive state — not in a resting or neutral state, contrary to previously held beliefs. 
The researchers mapped the location of each hydrogen atom in the places where drug inhibitors could bind to the protease enzyme, as well as the electrical charges of the associated amino acids.  
Previous research published in Nature Communications creates a complete atomic structure of the protease enzyme. The new research builds on that.
The team will now use the newly obtained information to investigate the binding properties of drug molecule candidates to produce improved Covid-19 therapeutics.
Benefits:
It is the first time anyone has obtained a neutron structure of a coronavirus protein. 
It is also the first time anyone has looked at this class of protease enzymes using neutrons. 
Further, the fact that the protein chains are cut at a site that is in an electrically charged reactive state, rather than neutral, was a surprise finding.
IISc, IOCL to develop hydrogen generation technology
The Indian Institute of Science(IISc) and the Research and Development Centre of IndianOil Corporation Limited have signed an MoU to develop and demonstrate biomass gasification-based hydrogen generation technology for producing fuel cell-grade hydrogen at an affordable price.
Under this MOU, which was signed on October 29, the IISc and IndianOil will work jointly on the optimisation of both biomass gasification and hydrogen purification processes, the IISc said in a statement.
The developed technology will be scaled up and demonstrated at IndianOils research and development Centre at Faridabad.
Hydrogen generated from this demonstration plant will be used to power fuel cell buses as part of a bigger project being conceived by Indian Oil towards ushering in the country's hydrogen economy.
Key benefits:
CLICK HERE FOR FULL CURRENT AFFAIRS (Only for Course Members)