Current Affairs for IAS Exams - 03 February 2020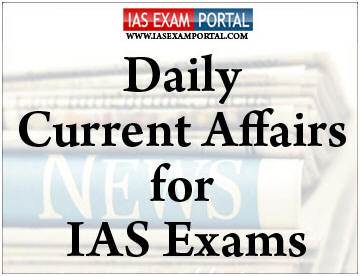 ---
Current Affairs for IAS Exams - 03 February 2020
---
::NATIONAL::
VP emphasise on joining skilling with schooling
Vice President M Venkaiah Naidu has stressed on the need to revisit our education policy with emphasis on skilling with schooling.

Speaking after inaugurating the vocational training institute at Hubballi in Karnataka today, he said education is not just meant for getting degree but must enlighten and empower the person. He recalled the importance of craft, gardening, NCC, NSS, Moral Science and history as part of moulding the personality.

On the importance of Skill India programme, he added, that demographic dividend can be reaped only by skilled manpower. He said 87 lakh youth have benefitted by KaushalVikasyojana.

He called upon private voluntary organisations to come forward to train youth in advanced skills and asked industries to join hands with the Universities. He said that the mindset that the Government will do everything must change.

Speaking on the occasion, Union Minister for Parliamentary affairs, Prahlad Joshi said 24 percent of youth in China, 80 percent in Japan and 96 percent in South Korea are skilled and same must be replicated in India.
Farmer's body hint protests if procurement policy is changed
As the debate surrounding the review of open-ended procurement policy has started gaining momentum, following a recommendation by the Commission for Agricultural Costs and Price (CACP) to the Centre government, several farmers and farmers' bodies in Punjab and Haryana have hinted that any move to stop or limit it would be opposed and resisted.

Agri-experts also believe that the current open-ended procurement policy is in the best interest of the country and farmers and any deviation could have negative impact on farmers.

Expressing similar sentiments Sarvan Singh Pandher, general secretary of the Punjab unit of KisanMazdoorSangarshSmiti, said "farmers in Punjab and Haryana are managing to survive only because wheat and paddy here are purchased at the MSP, if this process is stopped or even limited it would be nothing short of signing their death warrant."

"Government should be ready to face agitation if the open ended procurement policy is changed in a manner, which is detrimental to farmers interest," Mr.Pandher said.

Noted economist at Ludhiana-based Punjab Agricultural University, Prof. M.S. Sidhu, firmly believes that the current open ended procurement policy should continue in it's current form.

"The present policy is in the best interest of the country. Wheat and rice are basic food items.The present policy should continue in the interest of Punjab as well as the country," said Mr.Sidhu.
::ECONOMY::
Finance ministry moots taxing of NRI's in budget
Union Finance Minister NirmalaSitharaman on Sunday scotched fears that provisions introduced in the Budget would bring Indian workers' income in zero tax jurisdictions, like the UAE, into the Indian tax net.

The Finance Bill has proposed three major changes to prevent tax abuse by citizens who don't pay taxes anywhere in the world — reducing the number of days that an Indian citizen can be granted non-resident status for tax purposes from 182 to 120; citizens who don't pay taxes anywhere will be deemed to be a resident; and the definition of 'not ordinarily resident' has been tightened.

"Let's say an NRI, living in Dubai or elsewhere, is not taxed for his income there, but has some earnings through something in India for which he doesn't pay tax here. We are saying, for that income which is generated in India, pay a tax," she said.

Alarmed by the possible implications of the new provisions, Kerala Chief Minister PinarayiVijayan wrote to Prime Minister NarendraModi on Sunday, recording the State's strong disagreement over the provision as it will hurt Indians working in the Middle East, "who toil and bring foreign exchange to the country" through remittances.

The Ministry will incorporate a clarification, if required, into the law so that only income derived from an Indian business or profession will be taxable for such citizens, the Minister said.
Centre rejects advice for special grants by 15Th finance commission
The Centre has rejected the 15th Finance Commission's recommendation to give special grants worth ₹6,764 crore to States in 2020-21 to ensure that they do not receive less than the previous year's allocation.

This was one of the few recommendations that the Centre did not accept in the commission's report made public on Sunday.The Commission had submitted its interim report for 2020-21 to the President on December 5, 2019.

Major recommendations accepted by the Centre include the 41% share for States out of the divisible pool of tax collections, the suggested grants-in-aid and post-devolution revenue deficit grants of ₹74,340 crore for 14 States. It also accepted recommendations for grants to local bodies, disaster-related grants and sectoral grants.

The Centre asked the Commission to reconsider the recommendation for special grants "as it introduces a new principle". These grants were suggested to ensure that in 2020-21, "no State receives in absolute terms less than what it received in 2019-20 on account of tax devolution and revenue deficit grants."
::INTERNATIONAL::
G7 agrees to formulate joint response to coronavirus threat
The G7 countries will formulate a joint response to the coronavirus epidemic. Germany's Health Minister Jens Spahn said that he talked on the phone with his US counterpart.

He said they have agreed that there should be a discussion by the G7 Health Ministers to deal with the epidemic together. Spahn said there is no point in each country deciding on measures alone.

G7 comprises Canada, France, Germany, Italy, Japan, the United Kingdom and the United States. Meanwhile, Mongolia, Russia and Nepal have closed their land borders.

A second French-chartered plane carrying 300 evacuees from China fled to military base of Istres in France yesterday. A first plane landed Friday near Marseille.

Iraq's Interior Ministry announced that it would not allow foreigners travelling from China to enter the country over fears of an outbreak of coronavirus.

Bangladesh has decided to temporarily suspend the facility of on-arrival visa to Chinese citizens for one month in view of the concerns over the spread of Coronavirus.
UK to seek free trade deal with European Union
Two days after Brexit, British officials pushed the European Union on Sunday for a Canada-style free trade arrangement as British Prime Minister Boris Johnson geared up for a key speech to spell out his government's negotiating stance.

Foreign Secretary Dominic Raab told Sky News that Britain will seek a deal that imposes very few tariffs even though he said Britain will not seek to align its regulations with the EU.

EU officials, despite offering friendly words to the British public over the weekend after the divorce that took effect on Friday night, warn that Canada only achieved largely tariff-free trade status by bringing many of its rules in line with EU regulations. EU officials fear that the U.K. could water down its environment or health and safety precautions, undermining EU businesses.

The trade talks are vital because now that Britain has officially left the bloc — the first nation ever to do so — Mr. Johnson hopes to have a wide-ranging new deal in place by the end of the year.

European leaders have said that Britain will not be able to get a deal like Canada's if it breaks significantly with EU rules on food safety, environmental standards, worker's rights and other matters impacting on public well-being.

Irish PM Leo Varadkar on Sunday urged Mr. Johnson's Conservative government not to follow the mistakes of his predecessor by establishing "rigid red lines" that make it much more difficult to reach an agreement.
::SCIENCE & TECHNOLOGY::
Nearly 40 countries confirms participation in Def Expo 2020
Defence Ministers of nearly 40 countries have confirmed their participation for the biennial defence exposition DefExpo2020 beginning in Lucknow from the 5th of February. The Ministers include are from Czech Republic, Mexico, South Korea, United Arab Emirates and 14 African countries.

Live demonstrations of the services, DPSUs and industry showing the land, naval, air and internal security systems will be in action. The live demonstration will be held at two locations at the exhibition site and the other at the Gomati riverfront.

Nineteen technical and business seminars are planned during the DefExpo20 and 15 of these would be organized by various Industry Chambers, including Confederation of Indian Industries, Ph.D. Combers of Commerce, The Associated Chambers of Commerce of India. Some of the seminar topics are futuristic and include discussions on artificial intelligence, robotics, Internet of Things (IoTs), drones and wired warrior.

Dr Ajay Kumar said, a series of webinars have been going on since the 10th of last month. The topics of the webinars were of academic interest and relevance to the defence, aerospace and security industry, academia and student fraternity and were widely subscribed.

Arrangements have been made for five thousand college students from various technical colleges of Uttar Pradesh for visiting during business days. This is being done to inculcate interest among them. Entry will be free for the general public on February 8th and 9th.

There will be an Instagram photo competition during the business days of the exposition. The best-selected photographs by a jury shall fetch the participant's cash prizes of one lakh rupees.
::SPORTS::
Djokovic wins Australian open
In tennis, Serbia's Novak Djokovic won his record 8th Men's singles title in Australian Open at Rod Laver Arena in Melbourne yesterday.

He beat first-time Australian Open finalist Dominic Thiem of Austria.The men's doubles title was clinched by Joe Salisbury of UK and American Rajeev Ram who beat Australia's Luke Saville and Max Purcell.