Current Affairs MCQ for UPSC Exams - 03 February 2020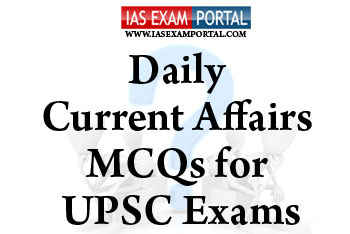 ---
Current Affairs MCQ for UPSC Exams - 03 February 2020
---
Q1. Which of the following statements regarding CACP (Commission for Agricultural Costs & Prices (CACP) ) stands true ?
1) It is mandated to recommend minimum support prices (MSPs) to incentivize the cultivators to adopt modern technology, and raise productivity and overall grain production in line with the emerging demand patterns in the country.
2) Currently CACP recommends Minimum Support Price for 23 crops with sugarcane being the latest addition.
3) After receiving the feed-back from them, the Cabinet Committee on Economic Affairs (CCEA) of the Union government takes a final decision on the level of MSPs and other recommendations made by CACP.
a) 1 & 2 only
b) 2 & 3 only
c) 1 & 3only
d) all of the above
Q2. Arrange the following countries in the increased order of their defence budgets as per latest rankings of 2019 :
A) Russia
B) China
C) India
D) Saudi Arabia
a) BCDA
b) ABDC
c) ADCB
d) BDCA
Q3. Consider the following statements :
1) Bats in South Asia act as a reservoir host of a diverse range of filoviruses.
2) Bats often carry Ebola, rabies, Marburg and the SARS coronavirus.
3) Bat and rodent species are less likely to host multiple viruses if their habitat ranges overlapped since bats host more zoonotic viruses than rodents.
Which of the above statements are true ?
a) 1 & 2 only
b) 2 & 3 only
c) 1 & 3only
d) all of the above
Q4. A National Logistics Policy will be released soon and it will clarify the roles of the Union Government, State Governments and key regulators, claims the finance ministry. Which of the following statements regarding the same stand true ?
1) India's logistics sector is highly defragmented and the aim is to reduce the logistics cost from the present 14% of GDP to less than 30% by 2022.
2) The National Logistics Policy formulated by the Commerce and Industry Ministry will improve India's trade competitiveness, create more jobs, improve India's performance in global rankings and pave the way for India to become a logistics hub.
3) The policy will create a single window e-logistics market and focus on generation of employment, skills and make MSMEs competitive.
a) 1 & 2 only
b) 2 & 3 only
c) 1 & 3only
d) all of the above
Q5. Ministry of Shipping is set to develop a maritime museum under the Sagarmala programme at "Lothal" .The place is located in which of the following states of India ?
a) Telangana
b) Odisha
c) Gujarat
d) Karnataka
Answer :
1. (d) 2. (c) 3. (a) 4. (b) 5. (c)