Current Affairs for IAS Exams - 08 February 2020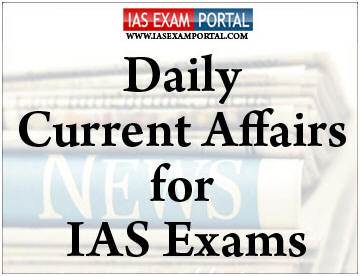 ---
Current Affairs for IAS Exams - 08 February 2020
---
::NATIONAL::
Centre to host another set of foreign diplomats to Jammu & Kashmir
The government is making preparations to organise a second visit of diplomats, including several European Ambassadors, to Srinagar and Jammu next week, sources confirmed here.
Unlike the last visit in January, when European Union (EU) members declined to travel and asked to be sent as a combined group of 27 members, this time, several members of the EU have agreed, sources said.
The visit will include a briefing by Army officials, and meetings with civil society members and politicians chosen by the government.
"While all the Ambassadors expressed their concerns about issues like political detentions and Internet restrictions, they were able to see that there was normalcy on the roads, and the entire Union Territory is not under lockdown as they had expected," the source added.
Diplomatic sources said negotiations over the scope and schedule of the proposed visit have been on for the past month, and had run into issues over specific demands by the European diplomats to meet detained former Chief Ministers Mehbooba Mufti, Farooq Abdullah and Omar Abdullah.
It is unlikely that these demands would be met this time either, as the government has just charged all of them under the stringent Public Safety Act.
Rajya Sabha approves FDI bill on financial services and critical infrastructure
Several RajyaSabha members, cutting across party lines, today supported a private member's bill, which seeks to set up a committee to scrutinise foreign investments in financial services, critical infrastructure and technology sectors having bearing on national security.
Members hailing from the BJP, the Congress and other parties raised concerns over data security and said it was an issue of national security and that there was a need to ensure that foreign direct investments in sectors such as financial services are scrutinised.
The members were taking part in a debate on the Foreign Investment in Financial Services, Critical Infrastructure and Technology Affecting National Security (Regulation) Bill, moved by NarendraJadhav, a nominated member of RajyaSabha.
The bill was moved by NarendraJadhav in December last year. Participating in the debate on the bill, BJP member Shiv PratapShukla said that in the current scenario, FDI is necessary for the growth of the economy, but it should not be above national security concerns. Anil Desai of the Shiv Sena said, there should be a high- powered committee to scrutinise such FDI proposals.
Ram Kumar Verma of the BJP said, there should be due diligence by the committee on foreign investments as suggested by Mr Jadhav. Supporting the bill, Congress member Rajeev Gowda said there was a need for wider participation in a committee on FDI that currently includes government secretaries and officials.
::ECONOMY::
Government to enhance independence and accountability of auditors
The government has proposed significant amendments to existing regulations to enhance independence and accountability of auditors.
Against the backdrop of instances of many auditors and auditing entities coming under the regulatory lens for alleged misdoings, the government has come out with a consultation paper on proposed legal changes regarding audit.
A significant topic in the paper is about economic concentration of the "Big Four" audit firms and the need to build the capacity of home-grown Indian firms that may need to be at par with global organisations in terms of audit procedures and manpower capacity, among other factors.
The paper has sought comments on whether the number of audits under one audit firm or auditor needs to be reduced. Inspection of audit engagements and developing a 'Composite Audit Quality Index' to improve accountability of auditors and audit firms are among other proposals.
The deadline for submitting comments on the paper to "examine the existing provisions of law and make suitable amendments therein to enhance audit independence and accountability" is February 28.
The Corporate Affairs Ministry is responsible for implementing the Companies Act.
Finance ministry claims no shift in policy from Make in India to assemble in India
Finance Minister NirmalaSitharaman today said that there is no shift in government's priority from Make in India to Assemble in India and that both these policies will provide impetus to capacity building and more employment opportunities in the coming years.
She said, any concern that the Government is only keen about Assemble in India over Make in India is a complete misconception. The Finance Minister was addressing members from the Industry sector at an event organized by CII in New Delhi today.
Ms.Sitharaman asserted that Assemble in India is an avenue that was not explored to its full potential till date by any government. She assured that the government is always exploring more and better ways of promoting entrepreneurship and wealth creation.
Economic Survey tabled in parliament last Friday pointed that Assemble in India is likely to create 80 million jobs in the next 10 years. The Finance Minister also said that any duty hike in the Budget 2020-21 is not a method of protectionism but a mechanism to avoid India being a dumping ground for products that can be indigenously produced.
Ms.Sitharaman said that the government has reduced Income Tax, Corporate Tax and Minimum Alternate Tax all in the same year demonstrating the government's strong will to stand with every section of the economy.
::INTERNATIONAL::
Pakistan to go for public hanging of child molesters
Pakistan's Parliament passed a resolution on Friday calling for the public hanging of convicted child killers and rapists, drawing a quick backlash from human rights organisations.
The non-binding resolution follows a spate of high-profile child sex-abuse cases that have provoked outrage and riots across Pakistan in recent years.
Child killers and rapists "should not only be given the death penalty by hanging, but they should be hanged publicly," said Ali Muhammad Khan, Pakistan's Parliamentary Affairs Minister, who presented the resolution in the national assembly, or lower house.
Though a majority of lawmakers approved the resolution, Human Rights Minister ShireenMazari stressed it was not sponsored by the government. The resolution "on public hangings was across party lines and not a govt-sponsored resolution but an individual act. Many of us oppose it our Ministry opposes this," Ms.Mazari tweeted.
Child sexual abuses are rampant in Pakistan.In October 2018, authorities hanged a child rapist in an infamous case in Kasur, near Lahore, that sparked nationwide protests. In that case, a six-year-old was raped and murdered by a 24-year-old man.
Maldives to increase security post suspected ISIS activity
Maldives government has said it will increase security for tourists after suspected Islamic extremists stabbed three foreign tourists on Tuesday.
President's office said in a statement that the National Security Council was working with the police and other agencies to find out more about the attack, its motives and the perpetrators.
It said that there is no space in the Maldives for extremist ideologies and that it will take swift measures against extremist activities.
The meeting was convened to discuss the precautionary measures the state is currently undertaking in wake of the violent attack. Six suspects have been arrested in connection with the wounding of two Chinese and an Australian national.
The three were stabbed outdoors in separate attacks on Hulhumale Island, adjoining capital Male. The Maldives is heavily dependent on tourism and is known for its expensive luxury island resorts.
::SCIENCE & TECHNOLOGY::
India's leopard population faces catastrophic declines
India's leopard population may be only a tenth of what it was a little over a century ago, experiencing catastrophic declines due to human pressures. Given the threats the animal faces – conflicts with humans, poaching, habitat loss and availability of prey – a group of scientists with new insights on loss of leopard abundance say that an initiative similar to 'Project Tiger' is required for the cat.
The leopard population, perceived to be stable due to broad geographic distribution, suffered a possibly human-induced population decline of 75% to 90% between 120 and 200 years ago, the scientists propose, in a paper titled, 'Genetic analyses reveal population structure and recent decline in leopards (Pantherapardusfusca) across the Indian subcontinent' published in the journal PeerJ – Life and Environment on Friday.
Scientists from the Centre for Wildlife Studies (CWS India) and the Wildlife Institute of India (WII) used genetic data from leopards from across the subcontinent to investigate population structure and patterns of decline. They probed the demographic history of each sub-population and compared genetic decline analyses with countrywide local extinction probabilities.
The authors argue that the population decline in a species seen as wide-ranging and locally abundant suggest that leopards demand attention just like tigers.
Authors Supriya Bhatt, SuvankarBiswas, BivashPandav and SamratMondol from WII, and Krithi K. Karanth from CWS India, collected faecal samples from the Terai-Arc landscape of northern India and identified 56 individuals using a panel of 13 microsatellite markers, and merged this data with those of 143 other leopards.
Genetic analyses showed four sub-populations — Western Ghats, Deccan Plateau-Semi Arid, Shivalik and Terai region with high genetic variation.
::SPORTS::
India withdraws from badminton Asia championships due to corona threat
Indian women's team has withdrawn from the upcoming Badminton Asian Championships citing health apprehension due to the coronavirus outbreak.
The Championships will be held at Manila in the Philippines from February 11-16. The men's team will, however, participate in the tournament. Badminton Association of India said, the men's team will leave for Manila tomorrow night.