Current Affairs MCQ for UPSC Exams - 08 February 2020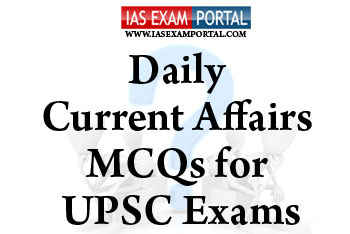 ---
Current Affairs MCQ for UPSC Exams - 08 February 2020
---
Q1.Which of the following statements regarding the status of  leopard population in India as per the study conducted by Scientists from the Centre for Wildlife Studies (CWS India) and the Wildlife Institute of India (WII), published recently stands true ?
1) The leopard population, perceived to be stable due to broad geographic distribution, suffered a possibly human-induced population decline of 75% to 90% between 120 and 200 years ago.
2) They probed the demographic history of each sub-population and compared genetic decline analyses with countrywide local extinction probabilities.
3) Genetic analyses showed four sub-populations — Western Ghats, Deccan Plateau-Semi Arid, Shivalik and Terai region with very low genetic variation.
Options :
a) 1 & 2 only 
b) 2 & 3 only 
c) 1 & 3 only 
d) all the above
Q2 Which of the following includes the emissions from thermal power plants ?
1) Carbon monoxide
2) Particulate matter
3) Methane
4) Nitrogen dioxide
5) Argon
Options :
a) 1,2 & 3 only 
b) 2,3 & 5 only 
c) 1,2 & 4 only 
d) 2,4 & 5 only
Q3 With respect to the Juvenile Justice Board,which of the following statements stands true ?
1) The State Government constitutes Juvenile Justice Boards in the districts time to time, for exercising the powers & to discharge duties, conferred on such Boards in relation to Children in Conflict with Law under the Juvenile Justice Act.
2) The Juvenile Justice act of 2015 allows Juvenile Justice Board, which would include psychologists and sociologists, to decide whether a juvenile in the age group of 16-18 should be tried as an adult or not.
3) The powers conferred on the Board by or under this Act may also be exercised by the High Court and the Children's Court, when the proceedings comes before them in appeal, revision or otherwise.
Options :
a) 1 & 2 only 
b) 2 & 3 only
c) 1 & 3 only 
d) all the above
Q4.The Government has introduced Soil Health Card (SHC) Scheme to assist State Governments to provide soil health cards to all farmers across the country once in a cycle of 2 years. Which of the following statements regarding the same stands true ?
1) Soil Health Card provides information to farmers on nutrient status of their soil along with recommendations on appropriate dosage of nutrients to be applied for improving soil health and its fertility.
2) To increase acceptability of SHC by farmers, during 2019-20, a pilot project 'Development of Model Villages' has been taken up where soil samples collection has been taken up at individual farm holding with farmer's participation instead of sample collection at grids being done earlier.
3) Under Soil Health Card (SHC) scheme, financial assistance is provided to state governments for the following training of farmers, demonstrations on farmer fields and organizing farmer melas as well.
Options :
a) 1 & 2 only 
b) 2 & 3 only
c) 1 & 3 only
d) all the above
Q5 It is a protected wildlife sanctuary in the Western Ghats of Karnataka state in India. It is named after the presiding deity of a famous temple located within the sanctuary.It has tropical wet evergreen forests, west coast semi evergreen forests and southern secondary moist mixed deciduous forests in its ranges. 
The above description refers to which of the following wildlife sanctuaries ?
a) Mukambika wildlife sanctuary
b) Someshwara wildlife sanctuary
c) Wayanad  wildlife sanctuary
d) Mudhumalai sanctuary
Answer :
1. (a) 2. (c) 3. (d) 4. (d) 5. (b)