Current Affairs for IAS Exams - 08 March 2020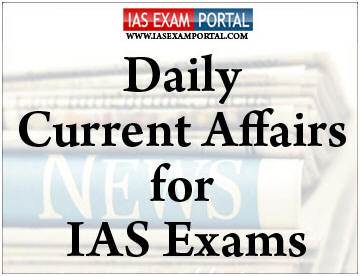 ---
Current Affairs for IAS Exams - 08 March 2020
---
::NATIONAL::
EC ready with roadmap for revamp
The Election Commission of India (ECI) is considering new voting methods, capping the campaign expenditure of political parties, online registration of new voters at 17 years and ending social media campaigning 48 hours before polling among the recommendations proposed by working groups it set up in June 2019.
The nine working groups, constituted after the Lok Sabha election and comprising ECI officials and State Chief Electoral Officers, had presented their draft recommendations on February 18.
On Saturday, the ECI published 25 of the main recommendations and invited comments or suggestions from the public till March 31 on the email address: coordination@eci.gov.in
"Working groups collated inputs and analysed these inputs, and suggested pathways for the future to add value to the electoral process in the country," the ECI said in the letter inviting suggestions. Among the proposals is to issue electronic versions of the voter ID card — EPIC — for convenience of voters.
Among the recommendations being considered is replacing all the forms for various voter services, including registration of new voter and change of address, with one single form.
Another recommendation was to impose a "silence period of 48 hours" before polling on social media and print media.
Survey finds less satisfaction from internal committees to victims of sexual harassement
Over 70% of respondents who had approached an internal committee to report sexual harassment at the workplace were not completely satisfied with the outcome, said a survey report released on Saturday by the Network ............................................
CLICK HERE FOR FULL CURRENT AFFAIRS (Only for Course Members)
::ECONOMY::
SIT on black money to submit interim report soon
Special Investigating Team (SIT) appointed by Supreme Court to oversee probe in black money used during the last general elections will submit its seventh interim report in the next two months.
Speaking to media after a high-level meeting of SIT in Cuttack yesterday, its Vice-Chairman Justice Arijit Pashayat said that a huge amount of cash, jewellery and drugs were seized by police and income tax officials from various states during the 2019 elections.
He said the status of the probe on the seizure materials during 2019 elections in different states and conviction of criminals was thoroughly discussed at the meeting.
The meeting was attended by officials of Enforcement Directorate, CBI, Vigilance, GST, Finance Ministry, Home Ministry, and Election Commission of India.
Defence sector to help country realize goal of 5trillion economy
Defence Minister Rajnath Singh today said defence sector can help in realizing the vision of making India a five trillion dollar economy.
He said the National Democratic .............................................
CLICK HERE FOR FULL CURRENT AFFAIRS (Only for Course Members)
::INTERNATIONAL::
Pakistan allows women worshippers into mosque
After a ban of 23 years, women worshippers can now pray at Peshawar's famous Sunehri Masjid, a move welcomed by women's groups, according to a media report.
Around 20 women offered prayers on Friday after the mosque administration announced the move, the Dawn News reported.
Provisions have been made for women to offer Friday prayers in the hall on the upper floor of the mosque, read a banner put up by the mosque administration. Women would also be allowed for Id prayers.
The mosque's Naib Imam Muhammad Ismail said till 1996 women were allowed to attend Friday prayer congregations, but later they were stopped due to growing militancy.
The construction of the Sunehri Masjid was completed in 1976. It is much-appreciated for its Mughal-style architecture.
The decision to allow women worshippers entry came days before International Women's Day on March 8 and the much-publicised 'Aurat March' (Women's March) planned on the same day.
Bangladesh reports first case of COVID-19
Bangladesh has reported its first confirmed case of Corona virus infection today. Speaking to media in Dhaka on Sunday, the Director of Institute of Epidemiology, Diseases Control and Research (IEDCR) Dr. ........................................
CLICK HERE FOR FULL CURRENT AFFAIRS (Only for Course Members)
::SCIENCE & TECHNOLOGY::
Researchers find evidence of social network in early animals
Some of the first animals on the Earth were connected by networks of thread-like filaments which may have been used for nutrition, communication or reproduction, the earliest evidence yet found of life being connected in this way, according to a study.
Scientists from the Universities of .........................................
CLICK HERE FOR FULL CURRENT AFFAIRS (Only for Course Members)
::SPORTS::
Australia wins ICC T20 worldcup for fifth time
Defending champions Australia have won the ICC Women's T20 World Cup for record fifth time, outclassing India by 85 runs in the summit clash at Melbourn today.
Riding on blistering half-centuries by openers Alyssa Healy 75 and Beth Mooney 78 not out, Australia posted 184 at the loss of four wickets. The bowlers did the rest of the work with Megan Schutt taking four for 18 and Jess Jonassen 3 for 20.