Current Affairs MCQ for UPSC Exams - 08 March 2020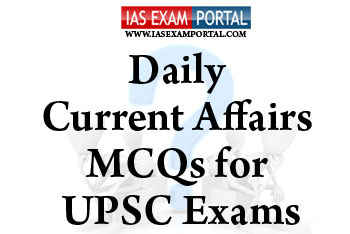 ---
Current Affairs MCQ for UPSC Exams - 08 March 2020
---
Q1. Which of the following statements with respect to sunspots stands true ?
1) Sunspots occur in pairs, with a leader and a follower. They originate deep within the Sun and become visible when they pop out.
2) Sun spots are relatively cooler spots on the Sun's surface. Their number waxes and wanes in cycles that last 11 years approximately.
3) From our safe distance of about 148 million km, the Sun appears to be sedate and constant. However, huge solar flares and coronal mass ejections spew material from its surface into outer space.
a) 1 & 2 only
b) 2 & 3 only
c) 1 & 3 only
d) all of the above
Q2. Which of the following minerals can be obtained by deep sea mining underneath the ocean floor :
1) Aluminium
2) Carbon
3) Zinc
4) Gold
5) Iron
a) 1 ,2 & 3 only
b) 3,4 & 5 only
c) 1,4 & 5 only
d) all of the above
Q3. Consider the following statements regarding the recently published 'Creating safe workplaces: prevention and redressal of sexual harassment in media houses in India' :
1) The online survey conducted to assess whether and how effectively media houses across India responded to the issue of sexual harassment at the workplace.
2) The survey found that 36% of all respondents reported having experienced sexual harassment at the workplaces. Of the respondents who experienced such harassment at work, 53% did not report it.
3) A high percentage made a report to the internal committee (IC) of their media houses and 70% of those who made a complaint were completely satisfied with the outcome, the report found.
Which of the above statements stands true ?
a) 1 & 2 only
b) 2 & 3 only
c) 1 & 3 only
d) all of the above
Q4. Which of the following regarding the steps taken by government to address Micro Nutrient Deficiencies Among Pre-School Children stands true ?
1) Government has also emphasized the importance of dietary diversification to address micronutrient deficiencies through the use of fresh local fruits and vegetables depending on the local food habits.
2) In this context, States/UTs have also been advised to promote Nutrition Garden/Kitchen Garden in the premises of AnganwadiCenters to help ensure regular supply of fresh fruits and vegetables rich in micronutrients like Iron, Vitamin-C, for inclusion in supplementary nutrition and improve the nutritional status of Anganwadi Services beneficiaries.
3) States/UTs have also been advised to include Millets (nutri-cereals / coarse grains like Jowar, Bajra, Ragi) in the recipes to enhance the nutritional quality of meals provided under Supplementary Nutrition Programme.
a) 1 & 2 only
b) 2 & 3 only
c) 1 & 3 only
d) all of the above
Q5. The "Sunehri Masjid" much appreciated for its Mughal architecture recently allowed women to offer prayers after a gap of 23 years.The above said mosque is located in which of the following countries ?
a) Iraq
b) Afghanistan
c) Pakistan
d) Bangladesh
ANSWER............................