Current Affairs for IAS Exams - 13 February 2020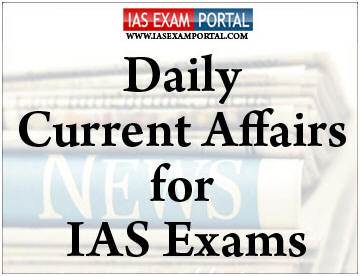 ---
Current Affairs for IAS Exams - 13 February 2020
---
::NATIONAL::
SC gives clarification on detention of juveniles in conflict with law
The Supreme Court has made it clear that the police have no right to detain children in conflict with law in a lockup or a jail.

A juvenile in conflict with law, if apprehended, has to be placed immediately under the care of the special juvenile police unit or a designated child welfare officer. The child has to be produced before the Juvenile Justice Board (JJB).

"Once a child is produced before a JJB, bail is the rule," a Bench of Justices Deepak Gupta and Aniruddha Bose declared. If for some reason bail is not granted, a child cannot be put behind bars.

He has to be lodged either in an observation home or in a place of safety.The law is meant to protect children and not detain them in jail or keep them in police custody, said the court.

The eight-page order on February 10 came after the court's attention was drawn by the recent media reports about "children being detained in police custody and tortured in Delhi and Uttar Pradesh". The order sends a significant message to the authorities in the light of reports about children detained in connection with the protests against the Citizenship (Amendments) Act.

The Bench has issued notice to the Uttar Pradesh and Delhi Commissions for Protection of Child Rights and directed them to file their responses within three weeks.
RajyaSabha shows record productivity in first phase of budget session
In the first phase of the Budget session, the RajyaSabha recorded 96% productivity with 155 members getting a chance to speak in a largely disruption-free session with a loss of only 96 minutes in its scheduled nine sittings.

The Upper House functioned for a ..........................................
CLICK HERE FOR FULL CURRENT AFFAIRS (Only for Course Members)
::ECONOMY::
President seeks banking of the unbanked to meet $5tn goal
To achieve the goal of a $5- trillion economy, commercial banks will need to focus on those who are still deprived of formal finance and the country will need more than just one bank in the top 100 global banks, said President Ram NathKovind said.

"India has become one of the largest economies in the world. Banks have been a constant part of India's growth saga. As India aims to become a $5-trillion economy, the banking sector has to start preparing for the next big leap. This mainly involves "banking with the unbanked" and "securing the unsecured," he said in a speech at the National Institute of Banking Management.

"Given the growing size of our economy, we should aim to have more than just one name in the world's top 100 banks," he added.Last month, the economic survey said at least eight banks were needed, which are large enough to belong to the top 100 banks globally, for India to become a $ 5-trillion economy.

At present, only State Bank of India is among the top 100 global banks. He pointed out the success of the 'PradhanMantri Jan DhanYojana' and said almost 35 crore bank accounts had been opened under this scheme. "This number is larger than the population of all countries except ours and China's," he said.

Mr.Kovind added that banks needed to take proactive measures to bring greater gender parity in ownership of financial assets. "As part of social responsibility, banks can adopt certain geographical areas for increasing financial awareness among women." He said the proposal to hike deposit insurance coverage from ₹1 lakh to ₹5 lakh was a positive step towards assuring savers.
Government set to regulate pesticide business in the country
The Union Cabinet on Wednesday approved the Pesticides Management Bill, 2020, which, the government claims will regulate the business of pesticides and compensate farmers in case of losses from the use of spurious agro ..................................
CLICK HERE FOR FULL CURRENT AFFAIRS (Only for Course Members)
::INTERNATIONAL::
UNSC adopts resolution for lasting ceasefire in Libya
UN Security Council has adopted a resolution calling for a "lasting ceasefire" in war-torn Libya, where a fragile truce has been in place since January.

The text, drafted by Britain, was approved by 14 votes out of 15, with Russia abstaining. The resolution affirmed the need for a lasting ceasefire in Libya at the earliest opportunity, without pre-conditions. It also expressed concern over the growing involvement of mercenaries in Libya.

Libya, Africa's most oil-rich nation, has been mired in chaos since the 2011 NATO-backed uprising that toppled and killed longtime leader MoamerKadhafi.

Since April 2019, the UN-recognized Government of National Accord has fought back against an offensive by military commander KhalifaHaftar, who is supported by Russia, Egypt and the United Arab Emirates.

A ceasefire was agreed on January 12, but there are still near-daily clashes near Tripoli and arms continue to flow into the country.
Iran denies U.S allegations of military dimension in satellite program
Iran's government today rejected US allegations that Tehran's satellite programme has a military dimension, days after the failed launch of its latest satellite.

Quoting Defence Minister Amir .....................................
CLICK HERE FOR FULL CURRENT AFFAIRS (Only for Course Members)
::SCIENCE & TECHNOLOGY::
Centre prepares draft visionary perspective plan to conserve avian ecosystem
Ahead of the Conservation of Migratory Species Conference of Parties-13 (CMS COP-13), the Ministry of Environment, Forest and Climate Change has introduced a draft Visionary Perspective Plan (2020-2030) to conserve ecosystems, habitats, avian diversity and landscapes in the country.

According to the draft, there are 1,317 bird species in India. Out of these 72 are endemic, 100 are threatened, 17 are critically endangered, 63 are vulnerable and 20 are endangered. Around 270 species of avifauna fall under "rare" category. It includes pheasants, hornbills, bustards, storks and cranes.

The birds are prone to extinction mainly due to poaching, fragmentation of ecosystem, habitat loss and epidemics. The draft also says that stray dog population has increased due to catastrophic decline in population of vultures.

The draft says that around 219 bird bio-diversity areas are under severe anthropogenic pressure.

The draft also says that 2,01,503 wetlands spread across 2.25 hectares in India are under stress. This is mainly due to agricultural run-offs and urbanization.
::SPORTS::
AmitPanghal ranked one in Boxing Olympic qualifiers
World silver-medallist AmitPanghal has been ranked number one in the 52 kilogram category for Olympic Qualifiers, making him the first Indian pugilist in over a decade to achieve the global top position in the category.

The list was released by the International Olympic Committee's Boxing Task Force today ahead of next month's Olympic Qualifiers. The rankings took into account the last two world championships for both men and women and the continental championships and Games in 2019. The diminutive boxer from Rohtak said, he is hopeful of securing an Olympic spot in the first qualifier itself.