Current Affairs MCQ for UPSC Exams - 13 February 2020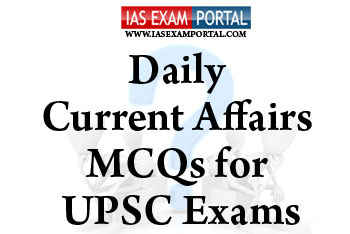 ---
Current Affairs MCQ for UPSC Exams - 13 February 2020
---
Q1. The Union Cabinet recently approved the Pesticides Management Bill, 2020, which, the government claims will regulate the business of pesticides and compensate farmers in case of losses from the use of spurious agro chemicals. Which of the following statements regarding the same stands true ?
1) The current state of regulation of pesticides in India, using the extant law called Insecticides Act 1968, has not caught up with post-modern pest management science nor has taken cognizance of a huge body of scientific evidence on the ill effects of synthetic pesticides.
2) India is the largest producer of pesticides in the world, with the market segmentation tilted mainly towards insecticides, with herbicides on the increase in the recent past.
3) It is not just human beings but wildlife and livestock that are poisoned routinely by toxic pesticides as numerous reports indicate.
a) 1 & 2 only
b) 2 & 3 only
c) 1 & 3 only
d) all of the above
Q2. Which of the following types of traditional water storage systems in India and their corresponding states are correctly matched ?
1) Oorani : Kerala
2) Dong : Assam
3) Khatri : Himachal Pradesh
4)Katas : Punjab
5) JalMandir : Gujarat
a) 1,2& 3 only
b) 2,3 & 5 only
c) 1,2 & 4 only
d) all of the above
Q3. Which of the following statements regarding population control strategies in the country stands true ?
1) Clinical Outreach Teams (COT) Scheme has been launched in 146 Mission ParivarVikas districts for providing family planning services through mobile teams from accredited organizations in far-flung, underserved and geographically difficult areas.
2) National Family Planning Indemnity Scheme (NFPIS) under which clients are insured in the eventualities of death, complication and failure following sterilization.The scheme was introduced in 2005 and implemented through an insurance company.
3) Under the provisionof compensation scheme for sterilization acceptors, Pregnancy Testing Kits in the drug kits of ASHAs for use in communities is being carried out.
a) 1 & 2 only
b) 2 & 3 only
c) 1 & 3 only
d) all of the above
Q4. Consider the following statements :
1) The Blue Revolution scheme, with its multi-dimensional activities, focuses mainly on increasingfisheries production and productivity from both aquaculture and fisheries resources in marine sectors only.
2) The Government of India has also extended the facilityof Kisan Credit Card (KCC) to fisheries and animal husbandry farmers to help them meet their working capitalneeds.
3) The fish production in the country is growing at an annual average rate of 7% during the last few years.
Which of the above statements are true ?
a) 1 & 2 only
b) 2 & 3 only
c) 1 & 3 only
d) all of the above
Q5. The field training exercise of BIMSTEC Disaster Management Exercise on flood rescue was carried out recently in which of the following coastal states ?
a) Telangana
b) Karnataka
c) Odisha
d) Gujarat
Answer :
1. (c) 2. (b) 3. (a) 4. (b) 5. (c)