Current Affairs for IAS Exams - 23 February 2020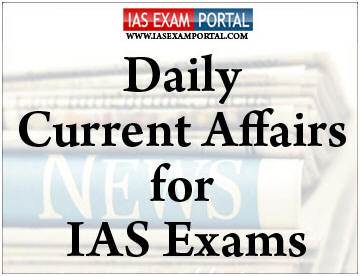 ---
Current Affairs for IAS Exams - 23 February 2020
---
::NATIONAL::
GoM discuss upon Juvenile Justice act 2015
A Group of Ministers (GoM) chaired by Home Minister Amit Shah met on Friday to discuss proposed amendments to the Juvenile Justice (Care and Protection of Children) (JJ) Act, 2015. Women and Child Development Minister SmritiIrani steered the meeting.
The 2015 Act addressed two key issues — "apprehension, detention, prosecution, penalty or imprisonment, rehabilitation and social re-integration of children in conflict with law" and "procedures and decisions or orders relating to rehabilitation, adoption, re-integration and restoration of children in need of care and protection".
A senior government official said the meeting was convened to seek views from all the senior Cabinet Ministers on Prime Minister NarendraModi's suggestion. "The Prime Minister wants that there should be greater synergy between Ministries on proposed laws. There are certain amendments that are being brought to the JJ Act and the GoM under Mr. Shah met to discuss the fine print. Views from all Union Ministers were sought," a senior official said.
Law Minister Ravi Shankar Prasad, Food Processing Minister HarsimratKaurBadal, External Affairs Minister S. Jaishankar and Health Minister Harsh Vardhan attended the meeting.
PM hails balance between development and environment in the country
Prime Minister NarendraModi today underlined that the rule of law is the basis of social transformation and the changes in the system should be rational as per law. He said the law is supreme and the people of India have strong faith in the judiciary. 
He was addressing the two-day International Judicial Conference organised by Supreme Court in New Delhi. In an apparent remark on the recent Supreme Court's decisions on Ayodhya land dispute, the Prime Minister said, a lot of talks had taken prior to the decision. But people have accepted the verdict wholeheartedly.
The Prime Minister said, it is a matter of pride that the Indian judiciary, legislature and executive have been carrying forward the spirit of the Constitution by respecting each other's roles.  He also said, Father of the Nation Mahatma Gandhi's life was devoted to truth and service, which are considered the foundation of the judiciary.
Mr.Modi hailed the Supreme Court for redefining environmental jurisprudence saying the judiciary has struck balance between development and environment. 
He said there was a time when it was said that swift growth and the protection of the environment cannot take place together. But India has changed this perspective and the country is progressing swiftly while also increasing its forest cover.  The Prime Minister said, the Indian judicial system has embraced technology for effective delivery of justice. 
He said the government is trying to connect each court to the e-court Integrated Mission Mode Project.   Mr.Modi added that the National Judicial Data Grid will also make court procedures easier.  
::ECONOMY::
Gold jumps to 7 year high mark
Gold rose 1% on Friday to its highest in seven years as the spread of the coronavirus intensified concerns about its impact on economic activity and global growth, increasing the metal's safe-haven appeal.
Spot gold rose 1.1% to $1,636.60 per ounce as of 18:26 IST, after hitting its highest since February 14, 2013 at $1,636.66 earlier this session. U.S. gold futures jumped 1.2% to $1,639.60.
"There is a rise in risk aversion again due to fears that the COVID-19 disease will spread further. The virus poses a major risk for the global economy," Commerzbank analyst Carsten Fritsch said. This is likely to force western central banks to maintain easy monetary policy, he added.
Meanwhile, China reported an uptick in new cases of COVID-19, boosted by over 200 people testing positive in two prisons outside of Hubei province, the epicentre of the outbreak.
The increase in number of new cases hit stock markets around the world, putting them on course for their worst week in four.
Among other safe havens, the U.S. government bonds gained as the benchmark 10-year treasury yields fell to its lowest since September.
Further spread of the disease could derail a "highly fragile" projected recovery in the global economy in 2020, the International Monetary Fund said on Wednesday.
Silver was up 1% at $18.53 and was set to register its strongest week since end-August. Platinum edged up 0.6% to $983.86 and was on track to post a weekly gain.
Atal innovation mission aims large scale contribution towards innovation
Atal Innovation Mission, the flagship initiative of NITI Aayog, has contributed immensely to promote innovation and entrepreneurship across the country. A cabinet, chaired by Prime Minister NarendraModi, had on 24th February 2016 given its approval for the establishment of Atal Innovation Mission. 
The Mission is establishing Atal Tinkering Laboratories in schools across India to foster curiosity, creativity and imagination in young minds and inculcate skills such as design mindset and computational thinking.
The Atal Tinkering Labs are dedicated innovation workspaces of 1200-1500 square feet where kits on the latest technologies like 3D Printers and Robotics are installed using a grant of 20 lakh rupees from the government. 
Students from Class 6 to Class 12 can tinker with these technologies and learn to create innovative solutions using these technologies. Atal Innovation Mission is setting up world-class Atal Incubators at the university, NGO, SME and Corporate industry levels that would trigger and enable successful growth of sustainable startups. 
The Mission is providing a grant of upto 10 crore rupees to successful applicants for setting up greenfield incubators or scaling up existing ones.
::INTERNATIONAL::
France set to shutdown its oldest nuclear plant
French state-owned energy giant EDF today began shutting down the country's oldest nuclear power plant after 43 years in operation.
EDF said, it had disconnected one of two reactors at Fessenheim, along the Rhine river near France's eastern border with Germany and Switzerland, at 2:00 am (0100 GMT) in the first stage of the complete closure of the plant.
The second reactor is to be taken offline on June 30 but it will be several months before the two have cooled enough and the used fuel can start to be removed. The removal of the fuel is expected to be completed by the summer of 2023 but the plant will only be fully decommissioned by 2040 at the earliest.
Shutting down Fessenheim became a key goal of anti-nuclear campaigners after the catastrophic meltdown at Fukushima in Japan in 2011. 
Experts have noted that construction and safety standards at Fessenheim, brought online in 1977, fall far short of those at Fukushima, with some warning that seismic and flooding risks in the Alsace region had been underestimated.
Despite a pledge by ex-President Francois Hollande just months after Fukushima to close the plant, it was not until 2018 that President Emmanuel Macron's government gave the final green light.
South Sudan's first vice president takes charge
In South Sudan, rebel leader RiekMachar was sworn in as first vice president today. The rebel leader returns as first vice president in a transition government which will serve for 36 months.
Four other vice presidents from the current regime and other opposition groups will also form part of a bloated government of 35 ministers, in addition to 550 lawmakers.
President SalvaKiir hailed the official ending of the war and said peace was now irreversible as the new unity government was formed after more than a year of delays.
::SCIENCE & TECHNOLOGY::
National organic food festival begins in New Delhi
Ministry of Food Processing and Ministry of Women and Child Development jointly inaugurated the National Organic Food Festival in New Delhi.
The festival aimed at strengthening organic food produce in the country. It also aimed at encouraging women entrepreneurs in manufacturing organic produce.
More than 180 women entrepreneurs and self-help groups exhibited their organic products at the festival. It was announced at the festival that the organic sector is growing at a speed of 17% per year.
GoI has lately been taking several steps to export organic foods. In order to achieve this, JaivikKheti Portal has been included in the agriculturalbudget presented by the Finance Minister. 
Out of the 2.8 lakh crore allocated for agriculture, a part is to be used for JaivikKheti scheme.
::SPORTS::
Indian athletes perform well in Asian championship
On day 5 of the Asian Wrestling Championship in New Delhi, India earned one gold and three silver medals yesterday. 
In men's freestyle 57 kg category, Ravi Dahiya won gold medal defeating Tajikistan's HikmatulloVohidov by technical superiority in the final match at KD Jadhav Indoor Stadium. 
Earlier, India's BajrangPunia, GouravBaliyan and SatyawartKadian won silver medals after losing in their respective finals.
India's biggest Olympic medal hope BajrangPunia faced a crushing 2-10 defeat at the hands of Japan's TakutoOtoguro in 65 Kg category.