Current Affairs for IAS Exams - 27 February 2020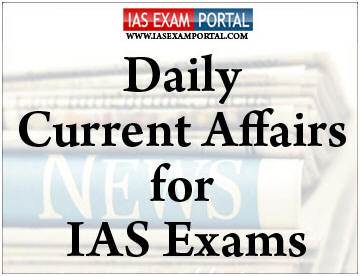 ---
Current Affairs for IAS Exams - 27 February 2020
---
::NATIONAL::
Vice President urges to maintain cultural diversity within peace & prosperit
Vice President Venkaiah Naidu has said, India's cultural diversity must always remain the vehicle of unity, peace, prosperity and happiness. He presented the 'Hamsadhwani Thyagaraja Award'' to the violin maestro M. Chandrasekharan at a function held at the Kalakshetra Foundation in Chennai this evening.

In his address, Mr Naidu said, the cultural diversity of India is a delight that must always be celebrated through mutual interactions and reciprocity between people of different States so that a common spirit of understanding resonates throughout the country.

He stressed that this sense of understanding is essential now, as rifts threaten to divide and fragment the bonds of socio-cultural cohesion. He noted that mutual understanding and trust have always been the foundations of India's strength and all citizens should feel culturally integrated in all corners of the nation.

The Vice President said, the rich cultural diversity of India must form the platform on which its future is built and a path for its rapid growth and development is charted. He said, though we speak different languages, eat different food and wear different clothes, we must acknowledge that fundamentally, we are one nation, one people.

He applauded the Union Government for coming up with innovative programs like 'Ek Bharat Shresta Bharat ' where states are paired with each other and people are encouraged to learn about each other's language, literature, cuisine, festivals and cultural events.

He also urged that the children must be taught to respect and appreciate cultures that are different from their own. He said, schools must sensitize children to different cultures and ways of life through frequent exchanges, cultural programs and exposure visits.
India affirms human rights council that Jammu & Kashmir is an integral part of the country
Jammu and Kashmir will remain an integral part of India for ever, and the world should act against countries that shelter terrorists, India told the Human Rights Council on Wednesday.

Speaking at the 43rd Session of the Human Rights Council, Vikas Swarup, Secretary of the Ministry of External Affairs, highlighted India's heritage of non-violence, and claimed that India believed in inclusive development.

Pakistan has been consistently critical of India's decision to end the special status of Kashmir and has raised the issue in multiple platforms of the United Nantions since last August. But the Indian official pointed out that cross-border terrorism from Pakistan poses a grave challenge to India.

"Pakistan also felt it necessary to offer advice and warnings about the situation within India. To paraphrase the poet Robert Burns, someone should give them the power to see themselves as others see them," Mr. Swarup said.

"As a nation that has suffered for decades from cross-border terrorism, India calls for decisive action against those who direct, control, fund, abet or shelter terrorists," said the official in his speech.
::ECONOMY::
Finance ministry emphasises better data sharing between customers and PSB's
Finance Minister Nirmala Sitharaman has emphasised the need for better data sharing between customers and Public Sector Banks (PSBs) at the regional level.

Addressing a function in New Delhi, she said banks require judicious mix of personal customer information and data. Ms. Sitharaman said government wants to use data analytics in banking sector.

The Minister pointed out that many branch level officers in public sector banks do not have enough information on government schemes. She said, bank branches in hinterland suffer as employees cannot speak in customers' mother tongue.

Ms Sitharaman said, the bank employees should speak local language. The Minister also launched Ease 3.0 for smart, tech-enabled banking for aspiring India.
Centre plans to revamp 2 decade old IT act
The government will soon kick-start the process of revamping the nearly 20-year old Information Technology Act, 2000, with an aim to bring it in tune with the technological advancements with a focus on stronger framework to deal with cybercrimes, Minister for Electronics and IT Ravi Shankar Prasad said on Wednesday.

An expert committee will be set up with members from the government as well as the industry for discussion on the new IT Act.Mr. Prasad said that the new Act will also factor-in larger issues, including Supreme Court's judgment on privacy.

Noting that cyber issues have not been adequately responded to in the present IT Act, the Minister said the government may even look at including a separate chapter on cyber issues in the revamped Act.

The Minister added that one of the major challenges was the scale of users that consume technology. "The biggest challenge is the number of consumers we have to handle. Plus, today, in India, technology has become the centre of digital payment and delivery of services such as GST and UPI. This also raises the question of misuse [of technology]. The vastness of these platforms was not even contemplated when the IT Act came into being," he said.

The Minister added that he had suggested to Mr. Nadella that Microsoft should consider adopting some digital villages and mentor them to make them beacons.

The Minister also pointed out that the issue of data sovereignty was discussed at the meeting. However, he did not share further details.
::INTERNATIONAL::
PM to hold talks with Myanmar President in New Delhi
Prime Minister Narendra Modi will hold talks with visiting Myanmar President U Win Myint in New Delhi today. Several agreements are expected to be signed after the talks. Mr U Win Myint arrived in New Delhi yesterday on a four-day visit to India.

He is accompanied by the First Lady Daw Cho Cho. Myanmar President will be accorded ceremonial reception at the Rashtrapati Bhavan this morning.

He will also visit Rajghat to pay tribute to father of the Nation, Mahatma Gandhi. Our correspondent reports that both the leaders are expected to discuss a wide range of bilateral issues.

India shares religious, linguistic and ethnic ties with Myanmar. It is the only ASEAN country adjoining India which provides gateway to South East Asia. India is seeking to enhance its cooperation with Myanmar in line with its Act East and Neighbourhood First Policies.

India is the fifth largest trading partner of Myanmar. Bilateral trade between these two countries has witnessed around 8 per cent growth during 2018-19 and current trade stands at 1.7 billion dollar. The President of Myanmar will visit Bodh Gaya and Agra during his tour.
India and U.S sign $3billion worth defence deals
India and the United States yesterday finalized defence deals worth three billion dollars and signed three agreements, including in health and oil sectors.

A Memorandum of Understanding was signed on mental health between the health departments of both the two countries.

Another MoU on the safety of medical products was signed between the Central Drugs Standard Control Organization with the US Food and Drug Administration.

In a joint press meet after holding extensive talks with visiting US President Donald Trump in New Delhi, Prime Minister Narendra Modi said the defence cooperation between two countries is reflective of the rising strategic partnership between India and US.

The Prime Minister said, they have decided to enhance efforts to hold supporters of terrorism accountable and agreed on new mechanism to contain drug trafficking.

Prime Minister added that both countries are committed to openness, fair and balanced trade and have decided to enhance strategic energy partnership.

In his statement, President Trump said, India and the US have expanded their defence cooperation with agreements for New Delhi to purchase more than three billion dollars of advanced American military equipment. Mr. Trump also affirmed the two countries' commitment to protect their citizens from radical Islamic terrorism.
::SCIENCE & TECHNOLOGY::
INCOIS launches new alert system
The Hyderabad based INCOIS (Indian National Centre for Ocean Information) launched a new alert system that will help reduce damage and losses to fishermen due to swell surges.

The Swell Surges splash strong waves in the coast damaging boats and nets. The system will help fishermen to get prior alerts about swell surges and safeguard their boats.

The INCOIS, an autonomous body operating under Ministry of Earth Sciences launched the alert system that will help provide early warnings about Swell Surges.

This is to be launched exclusively for coastal population. The Coastlines of Indian Sub-continent after Tsunami has been experiences damages due to swell waves that originate in distant Southern Indian Ocean.

A Swell Surge is caused due to surface gravity. They are surface gravity waves and not wind waves (the common waves). Wind Waves are generated by the local winds.

On the other hand, swell surges are generated due to distant weather systems. They take place without any noticeable changes in local winds or coastal environment.
::SPORTS::
India maintains top spot in ICC test rankings
In the ICC World Test Championship, India continues to be placed at the top of the latest Test rankings with 360 points. However, India skipper Virat Kohli lost the top spot in the ICC Test Player Rankings.

Kohli's slump meant Australia's Steve Smith was back on top of the list for the eighth time after first occupying the top position in June 2015. Kohli who had 906 points managed only 21 runs in the first Test which his side lost to New Zealand by 10 wickets in Wellington.

India vice-captain Ajinkya Rahane gained a spot. Mayank Agarwal returned to a career-best 10th position after amassing 92 runs. Cheteshwar Pujara dropped two places.