Current Affairs MCQ for UPSC Exams - 27 February 2020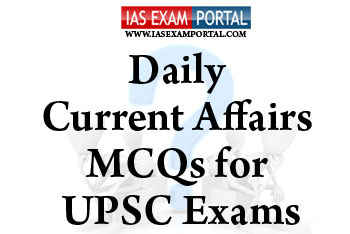 ---
Current Affairs MCQ for UPSC Exams - 27 February 2020
---
Q1. Which of the following statements regarding the newly launched alert system by INCOIS (Indian National Centre for Ocean Information) stands true ?
1) The INCOIS, an autonomous body operating under Ministry of Environment forests and climate change launched the alert system that will help provide early warnings about Swell surges.
2) A Swell Surge is caused due to surface gravity which takes place without any noticeable changes in local winds or coastal environment.
3) The Coastlines of Indian Sub-continent after Tsunami has been experiences damages due to swell waves that originate in distant Southern Indian Ocean.
a) 1 & 2 only
b) 2 & 3 only
c) 1 & 3 only
d) all of the above
Q2. Consider the following pairs of volcanoes and their respective countries of origin:
1) Arenal : Costa Rica
2) Mt.Vesuvius : Italy
3) Krakatoa : Japan
4) Moti : Myanmar
Which of the above are correctly matched ?
a) 1 & 2 only
b) 2 & 3 only
c) 1 & 3 only
d) 3 & 4 only
Q3. The government will soon launch third phase of the Pradhan Mantri Kaushal Vikas Yojana (PMKVY).Which of the following statements regarding the same stands true ?
1) The government had launched the PMKVY scheme in 2015 to mobilize youth to take up skill training with the aim of increasing productivity and aligning the training and certification to the needs of the country.
2) The scheme was revamped as PMKVY -2 in 2018 with an aim to train one crore youth by the year 2030.
3) Under the scheme mobilization would be done through skill melas organized at the local level with participation of the State Governments, Municipal Bodies, Pachayati Rai Institutions and community based organizations.
a) 1 & 2 only
b) 2 & 3 only
c) 1 & 3 only
d) all of the above
Q4. Consider the following statements regarding ISRO's upcoming GISAT-1 launch scheduled to be in March :
1) Geosynchronous Satellite Launch Vehicle (GSLV-F10) will launch Geo Imaging Satellite (GISAT-1) from the Second Launch Pad of Satish Dhawan Space Centre (SDSC) SHAR, Sriharikota.
2) Weighing about 2275 kg, GISAT-1 is a state-of-the-art agile Earth observation satellite which will be placed in a Geosynchronous Transfer Orbit by GSLV-F10.
3) Operating from geostationary orbit, GISAT-1 will facilitate near real time observation of the Indian sub continent, under cloud free condition, at frequent intervals.
Which of the above statements stands true ?
a) 1 & 2 only
b) 2 & 3 only
c) 1 & 3 only
d) all the above
Q5. The recently published global flourishing index in which India was ranked 131 was released by WHO commission and which of the following global organisation ?
a) UNESCO
b) UNICEF
c) UN human rights council
d) World Bank
Answer :
1. (b) 2. (a) 3. (c) 4. (d) 5. (b)