Current Affairs for IAS Exams - 29 may 2019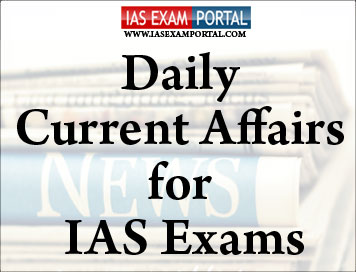 Current Affairs for IAS Exams - 29 May 2019
::NATIONAL::
EC forms working groups to appraise poll operations
The Election Commission (EC) on Tuesday constituted eight working groups to thoroughly appraise specific areas, based on its experience during the conduct of the Lok Sabha polls. Among the issues to be examined are timely action in cases of Model Code of Conduct (MCC) violations and the legal aspects of enforcement of the code.
The groups, which have to submit their recommendations to the EC, would be headed by senior Deputy Election Commissioners, Deputy Election Commissioners and Director-Generals.
One of the working groups on "electoral roll and polling stations" would study the health and fidelity of electoral rolls to make them error free. It would also look into issues pertaining to uniqueness and portability of Electoral Photo ID Card. Standardisation of addresses and rationalisation of polling stations would also be examined, apart from legal changes needed for improving electoral registrations.
Another group on "election planning and management" would review matters related to simultaneous elections, scheduling of polls, deployment of armed forces, mapping of vulnerable pockets and law and order concerns. The issues pertaining to Electronic Voting Machines (EVM) and Voter Verifiable Paper Audit Trail (VVPAT) would be looked into by another team, in terms of inventory management and counting of paper slips.
A group on "Model Code of Conduct, Manifestos, Observers and Political Parties" would explore various ways for standardisation of protocol for timely and effective action in MCC matters and their database management. It would also review its various provisions, including those involving manifestos.
NGT gives directions to government regarding water purifiers
The National Green Tribunal, NGT, has directed the government to ban water purifiers where total dissolved solids (TDS) in water are below 500 mg per litre. A bench headed by NGT Chairperson Justice Adarsh Kumar Goel passed the order after perusing a report of a committee formed by it, and gave the directions to the Ministry of Environment and Forests (MoEF
The tribunal also directed to sensitise public about the ill effects of demineralised water and asked the government to make it mandatory to recover more than 60 per cent water wherever RO is permitted across the country.
Reverse Osmosis (RO) is a water treatment process that removes contaminants from water by using pressure to force molecules through a semipermeable membrane.
It also ordered that directions be issued for enforcement of Extended Producers Responsibility by the manufacturers for disposal of cartridges and membranes and directing manufacturers to provide proper labelling on the purifier specifying that the unit should be used if TDS is more than 500 mg per litre.
The Tribunal was hearing a plea filed by an NGO seeking conservation of potable water by preventing its wastage on account of unnecessary use of Reverse Osmosis (RO) systems.
::ECONOMY::
SEBI to tighten norms for listed debt securities
To further safeguard the interest of investors in listed debt securities, the Securities and Exchange Board of India (SEBI) has tightened the disclosure norms for entities that have issued such securities.
In a circular issued on Monday, the capital market watchdog made it mandatory for such companies to disclose on their websites the schedule of interest and redemption obligations for the complete financial year.
According to the SEBI, the enhanced disclosure norms have been issued to "further secure the interests of investors in listed debt securities, enhance transparency and to enable Debenture Trustees (DTs) to perform their duties effectively and promptly."
"DTs shall also update the status of payment against such issuers not later than 1 day from the due date. In case the payment is made with a delay by the issuer, DTs shall update the calendar specifying the date of such payment, with a remark 'delayed payment'," said the circular.
For privately-placed debt securities, SEBI has made it mandatory for the inclusion of a clause stating that at least 2% per annum interest would be paid over the coupon rate in case of a default in meeting the payment obligations. The additional interest would be payable by the company for the tenure of the defaulting period.
Digital services to help Indian IT revenue grow by 7-8%
Indian IT revenue is expected to grow by 7-8% in dollar terms during fiscal 2020, helped by double digit growth in digital services. However, operating margin is forecast to decline 30-80 bps (basis points) for the sector this year as local hires increase for onsite jobs, said Crisil Research.
Local talent comes at an additional cost of 25 to 30% compared with the salaries paid to H-1B holders deployed onsite. Traditionally, the sector had relied on labour arbitrage for maintaining margins, but that gap had been narrowing owing to various market forces — mainly, changing U.S. policy stance towards H-1B visas.
Employee expenses, which account for nearly 60-65% of total operating costs and cost per employee for tier 1 players, rose faster at about 17% and about 9% on-year in fiscal 2019, respectively, compared with about 6% and about 3% a year before. For mid-tier players, the increase in employee expenses were about 13% on-year for nine months ended December of fiscal 2019 as many are yet to declare fourth quarter results," it said in a report.
Such a rise in staff costs can be attributed to tightening of visa norms for Indian players, resulting in higher onsite costs for them.Ever since the U.S. government tightened its H-1B visa norms in 2017, challenges had mounted for the sector.
That year, Indian-origin employees were the largest consumers of H-1B visas at 63% of initial employment, so the sudden change meant fulfilling onsite client requirements became tough.
::INTERNATIONAL::
Vice president calls for renewed effort to gain UNSC membership
Vice President Venkaiah Naidu has called for renewed efforts by India to gain permanent membership of the UN Security Council. Interacting with the Officer Trainees of the 2018 batch of the Indian Foreign Service and Bhutanese Diplomats in New Delhi today, the Vice President referred to the growing prominence of India on the world stage.
He underscored the need for enhancing support from world nations and building a sustained dialogue in favour of UNSC reforms.
The Vice President cautioned that the return of the unwelcome tendency of protectionism would adversely impact the global effort for collective advancement. He expressed his concern over the threat posed by terrorism and observed that no country is immune to the consequences of terrorism.
He also expressed his concern over the ease with which financial fugitives find safe havens in other countries. He suggested the constant updating and overhauling of Extradition Treaties and all bilateral and multilateral agreements to defend and safeguard the integrated global economic order for the collective good.
Describing the Indian diaspora as an asset, he said they play an important role culturally as well as economically in the countries they live in.
Iran ready for talks with west Asian countries amid U.S sanctions
Iran is ready to engage in a dialogue with the Gulf countries, including Saudi Arabia and the United Arab Emirates (UAE), to address the issue of escalating tensions with the United States in the Arabian Gulf, authorities said yesterday.
Iran's deputy foreign minister Abbas Araqchi made the remarks during his visit to Qatar where he met foreign minister Sheikh Mohammed bin Abdulrahman Al Thani in Doha.
Qatar's foreign ministry, in a statement, said both sides expressed their concern about escalations and problems in the region.Tensions have risen between Iran, on one side, along with the US and its Gulf allies, on the other.
Meanwhile, US President Donald Trump's National Security Adviser John Bolton arrived in the UAE yesterday before talks scheduled for today.
::SCIENCE & TECHNOLOGY::
Scientists claim world rivers polluted with antibiotics
Rivers worldwide are polluted with antibiotics that exceed environmental safety thresholds by up to 300 times, according to research unveiled at a conference on Monday.
Scientists found one or more common antibiotics in two-thirds of 711 samples taken from rivers in 72 countries, they told a meeting of environmental toxicologists in Helsinki.
In dozens of locations, concentrations of the drugs — used to fight off bacterial infection in people and livestock — exceeded safety levels set by the AMR Industry Alliance, a grouping of more than 100 biotech and pharmaceutical companies.
At one location in Bangladesh, concentrations of another widely used antibiotic, metronidazole, were 300 times above the limit, the researchers said.
The widespread presence of antibiotics not only impacts wildlife, but likely contributes to the problem of antimicrobial resistance.
The World Health Organisation (WHO) has warned that the world is running out of antibiotics that still work, and has called on industry and governments to urgently develop a new generation of drugs.
Discovered in the 1920s, antibiotics have saved tens of millions of lives from pneumonia, tuberculosis, meningitis and a host of deadly bacteria.Overuse and misuse of the drugs are thought to be the main causes of antimicrobial resistance.
Safety limits were most frequently exceeded in Asia and Africa, but samples from Europe and the Americas showed that the problem is global in scope.The countries with the highest levels of antibiotic river pollution were Bangladesh, Kenya, Ghana, Pakistan and Nigeria.
::SPORTS::
World chess body to restore ratings of banned Indian players
The world chess body, FIDE, has decided to restore the Elo ratings of dozens of Indian players, whose ratings were banned by the All-India Chess Federation, AICF, nearly a decade ago.
FIDE president Arkady Dvorkovich in a statement posted on Twitter said all those players whose name were expunged from the records, at the behest of the AICF, will be back with immediate effect.
Former world number three and FIDE vice-president Nigel Short in a tweet termed it a hugely positive statement by FIDE President. He said Chess must be for the players & lovers of the game and not for the administrators.
The country's national chess body had banned several players for taking part in tournaments conducted by rival chess association and in un-recognised events. The banned players had challenged the AICF move with the Competition Commission of India, which imposed a fine on the chess body for violating provision of the Competition Act, 2002. A PTI report said AICF officials could not be reached for comment.