Current Affairs MCQ for UPSC Exams - 29 May 2019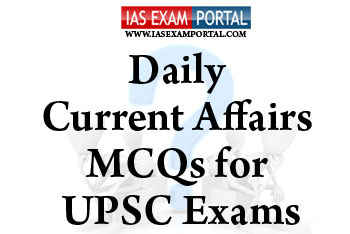 ---
Current Affairs MCQ for UPSC Exams - 29 May 2019
---
Q1. Which of the following statements regarding the National SC/ST hub scheme are true ?
1) The Hub is set up to provide professional support to SC/ST entrepreneurs to fulfill the obligations under the Central Government Public Procurement Policy for Micro and Small Enterprises Order 2012, adopt applicable business practices and leverage the Stand Up India initiatives.
2) Under the program Training for capacity building of SC/ST entrepreneurs are also being conducted through select premium academic institutions.
3) The scheme is being implemented by ministry of social justice and empowerment.
a) 1 & 2only
b) 2 & 3 only
c) 1 & 3 only
d) all of the above
Q2. Consider the following pairs of coal fields in India and their corresponding states :
1) Rampur : Odisha
2) Umaria : Bihar
3) Ranigunj : West Bengal
4) Jaipur : Rajasthan
5) Sonhat : Chattisgarh
Which of the above pairs are correctly matched ?
a) 1,2 & 3 only
b) 3,4 & 5 only
c) 1,3 & 5 only
d) all of the above
Q3. Consider the following statements regarding Masala bonds :
1) Masala Bonds are forex denominated borrowings issued by Indian entities in overseas markets.
2) In a masala bond, if the value of Indian currency falls, the foreign investor will have to bear the losses, not the issuer which is an Indian entity or a corporate.
3) Besides helping in diversifying funding sources, the costs of borrowing via masala bonds could also turn out to be lower than domestic markets.
Which of the above statements are true ?
a) 1 & 2only
b) 2 & 3 only
c) 1 & 3 only
d) all of the above
Q4. The National Green Tribunal, NGT, has directed the government to ban water purifiers where total dissolved solids (TDS) in water are below 500 mg per litre.
Which of the following statements regarding the same are true ?
1) Total dissolved solids (TDS) is a measure of the dissolved combined content of all inorganic and organic substances present in a liquid in molecular, ionized, or micro-granular (colloidal sol) suspended form.
2) Primary sources for TDS in receiving waters are agricultural and residential runoff, clay-rich mountain waters, leaching of soil contamination, and point source water pollution discharge from industrial or sewage treatment plants.
3) Reverse Osmosis (RO) is a water treatment process that removes contaminants from water by using pressure to force molecules through a semipermeable membrane.
a) 1 & 2only
b) 2 & 3 only
c) 1 & 3 only
d) all of the above
Q5. The port of Zham will resume its cargo service on Wednesday, four years after it was closed due to a massive earthquake which killed thousands in the South Asian country.
The port lies in the border of China and which one of the following south Asian countries ?
a) Myanmar
b) Nepal
c) India
d) Bhutan
Answer:
1(a), 2(c), 3(b), 4(d), 5(b)