Current Affairs MCQ for UPSC Exams - 04 July 2019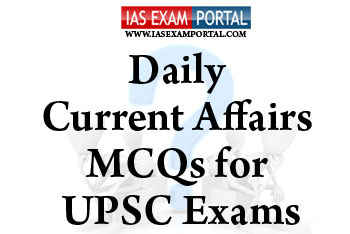 ---
Current Affairs MCQ for UPSC Exams - 04 July 2019
---
Q1. Consider the following statements regarding MSP (Minimum Support Price)
1) The MSP is the rate at which the Centre procures these crops from farmers. However, there is no guaranteed procurement mechanism for most crops.
2) The only commodities with MSP that will ensure a higher than 50% return over input costs are bajra (85%), urad (64%) and tur dal (60%).
3) Just over 90% of the paddy harvest is bought by the Food Corporation of India for use in the public distribution system.
Which of the above statements are true ?
a) 1 & 2 only
b) 2 & 3 only
c) 1 & 3only
d) all of the above
Q2. Consider the following pairs of hydro power stations in India with their locations :
1) Bhivpuri :Odisha
2) Jawaharsagar : Rajasthan
3) Gandki : Bihar
4) Tehri : West Bengal
Which of the above pairs are correctly matched ?
a) 1& 2 only
b) 2 & 3 only
c) 1 & 3 only
d) 2 & 4 only
Q3. Consider the following statements :
1) India Investment Grid (IIG) scheme aims to support the ongoing efforts to boost the innovation ecosystem in the country by connecting innovators across industry, individuals and the grassroots to the market and helping commercialise their innovative solutions.
2)Accelerating Growth of New India's Innovations (AGNIi) is an online platform to showcase investment opportunities in India to global investors. The platform is looked after by Invest India.
Which of the above statements stands true ?
a) 1 only
b) 2 only
c) Both 1 & 2
d) None of the above
Q4. Which of the following statements regarding the newly submitted report on education of disabled children by UNESCO and Tata Institute of Social Sciences stands true ?
1) More than one in four children with disabilities between ages 5 and 19 in India have never attended any educational institution, while three-fourths of five-year-olds with disabilities are not in school.
2) While the Right to Education Act mandates enrolment, but not the provision of resources needed for the actual education of a child with disabilities.
3) Amendments to the RTE Act, 2009 to make it align with the Right of Persons with Disabilities Act, 2016 are among the major recommendations of the report.
a) 1 & 2 only
b) 2 & 3 only
c) 1 & 3only
d) all of the above
Q5. Which of the following cities adopted the first global conference on 'synergies between 2030agenda and Paris agreement' recently ?
a) Paris
b) London
c) Copenhagen
d) Katowice
Answer:
1. (a) 2. (b) 3. (d) 4. (d) 5. (c)