Current Affairs MCQ for UPSC Exams - 06 January 2020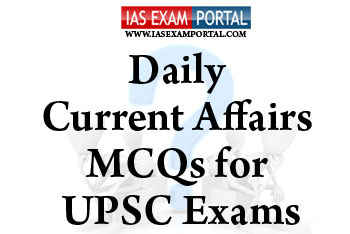 ---
Current Affairs MCQ for UPSC Exams - 06 January 2020
---
Q1. Which of the following statements regarding the National Building Codes 2016 stands true ?
1) It has a detailed provision for streamlining the approval process in respect of different agencies in the form of an integrated approval process through single window approach thereby avoiding separate clearances from various authorities.
2) It features norms for solar energy utilisation, inclusion of modern lighting technique including LED, updated provision on piped gas supply in housesand hospitals. It also covers solid waste management and rain water harvesting.
3) The code has been prepared by the Bureau of Indian Standards (BIS). It is voluntary in nature, but the states can incorporate them in their building by laws.
a) 1 & 2 only
b) 2 & 3 only
c) 1 & 3 only
d) all of the above
Q2). Which of the following species of Birds/Animals are considered as vulnerable as per under IUCN red list ?
1) Barasingha
2) Camel
3) Yak
4) Honey bee
a) 1 & 2 only
b) 2 & 3 only
c) 1& 3 only
d) all of the above
Q3. Consider the following statements regarding India's current /capital account deficit status :
1) India's current account deficit(CAD) excess of imports over exports contracted to 0.9 per cent of its GDP compared to a deficit of 2.9 per cent of GDP, in the same period of year ago due to slowdown in imports and lower oil prices.
2) A current account deficit indicates that a country is exporting more than it is importing.
3) In the capital account, the overall surplus declines to $12 billion compared to inflows worth $16.3 billion in the same period a year ago. This was largely due to a slowdown in net inflows through foreign investment and loans during the quarter.
Which of the above statements stands true ?
a) 1 & 2 only
b) 2 & 3 only
c) 1 & 3 only
d) all of the above
Q4. Which of the following statements regarding ocean acidification statistics stands true?
1) Ocean acidification that is caused due to uptake of carbon-dioxide has changed the chemical composition of the seawaters.
2) According to the United Nations,over the past 30 years, acidity has increased by 26% since pre-industrial times.
3) The marine fish stocks that are at biologically sustainable levels have declined from 90% (1974) to 99.9% (2015).
a) 1 & 2 only
b) 2 & 3 only
c) 1 & 3 only
d) all of the above
Q5. According to the recent census at the Bhitarkanika National Park, the population of salt water (or estuarine) crocodiles have increased to 1,757 as compared to 1,742 in 2018.The above said national park is located in which of the following Indian states ?
a) Rajasthan
b) Odisha
c) Telangana
d) Gujarat
Answer :
1. (d) 2. (c) 3. (c) 4. (d) 5.(b)