Current Affairs MCQ for UPSC Exams - 11 May 2019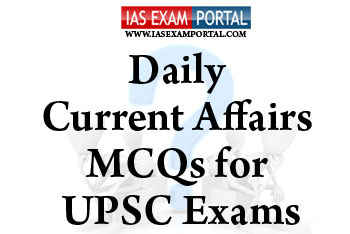 ---
Current Affairs MCQ for UPSC Exams - 11 May 2019
---
Q1. Which of the following statements regarding the recently released report by World Health Organisation database on health workers are true ?
1) India faces the problem of acute shortages and inequitable distributions of skilled health workers as have many other low- and middle-income countries
2) Despite the health sector employing five million workers in India, it continues to have low density of health professionals with figures for the country being lower than those of Sri Lanka, China, Thailand, United Kingdom and Brazil.
3) Southeast Asia needs a 50% increase in healthcare manpower to achieve universal health coverage by 2030.
a) 1 & 2 only
b) 1 & 3 only
c) 2 & 3 only
d) all of the above
Q2. Consider the following pairs of GI tagged products and their corresponding origin states :
1) Moirang phee : Manipur
2) Bhagalpur silk : Bihar
3) Kathputlis : Rajasthan
4) Pattachitra : Odisha
Which of the above pairs are correctly matched ?
a) 1,2 & 3 only
b) 2,3 & 4 only
c) all of the above
d) 2 & 4 only
Q3. Consider the following statements regarding crowd funding :
1) Crowdfunding is the use of small amounts of capital from a large number of individuals to finance a new business venture.
2) Crowdfunding broadens outreach and provides opportunities to test what motivates diverse groups to donate.
3) Even though Equity-based crowd funding is growing popularity its demand amongst start ups is declining because it allows startup companies to raise money only after giving up its control to venture capital investors.
Which of the above statements are true ?
a) 1 & 2 only
b) 1 & 3 only
c) 2 & 3 only
d) all of the above
Q4. The central government is empowered to give directions to the states with regard to the exercise of their executive power in which of the following matters ?
1) Construction and maintenance of civil means of communication.
2) Measures to be taken for the protection of railways within the state.
3) The provision of adequate facilities for instruction in mother tongue at primary stage of education for linguistic minorities in the state.
4) Execution of specified schemes for welfare of scheduled tribes in the state.
a) 1,2 & 3 only
b) 2,3 & 4 only
c) all of the above
d) 2 & 4 only
Q5. It is a district and an archipelago of 99 islands (+ 5 small islands visible only at low tide) in the Andaman Sea some 30 km off the mainland coast of northwestern Malaysia. It had long been at the periphery of and closely associated with the domain of the Kedah Sultanate. Two-thirds of the island is dominated by forest-covered mountains, hills and natural vegetation.
The above description refers to which of the following places in the south east asia?
a) Thailand
b) Singapore
c) Langkawi
d) Bali
Answer:
1(d), 2(c), 3(a), 4(b), 5(c)