Current Affairs MCQ for UPSC Exams - 17 May 2019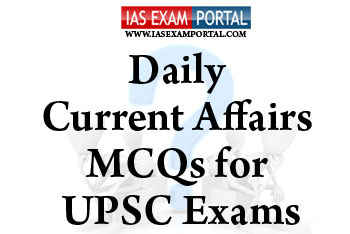 ---
Current Affairs MCQ for UPSC Exams - 17 May 2019
---
Q1. Which of the following statements describing the differences between bio-similar drugs and generic drugs are true ?
1) A biosimilar drug is a biologic product that is almost an identical copy of an original product that is manufactured by a different company.
2) Biosimilars have the same clinical effect as a generic but are only as similar to the original branded drug as validation technologies can confirm.
3) Unlike with generic drugs of the more common small-molecule type, biologics generally exhibit high molecular complexity and may be quite sensitive to changes in manufacturing processes.
a) 1 & 2 only
b) 2 & 3 only
c) 1 & 3 only
d) all of the above
Q2. Which of the following pairs of bird sanctuaries and their locations are correctly matched ?
1) Dwarka Marine Park : Gujarat
2) Salim Ali bird sanctuary : Tamilnadu
3) Ranganathittu bird sanctuary : Karnataka
4) Sultanpur sanctuary : Madhya Pradesh
a) 1 & 2 only
b) 1 & 3 only
c) 2 & 4 only
d) 1 & 4 only
Q3. Which of the following statements regarding the recently concluded Basel convention on movement of hazardous wastes are true ?
1) One of the key outcome of the convention includes an amendment which involves making global trade in plastic waste more transparent and better regulated, whilst also ensuring that its management is safer for human health and the environment.
2) India's laws currently don't allow electronic and plastic waste to be imported into the country, not even by plastic and waste recyclers in SEZ's.
3) India and Nigeria were the only countries that had strongly opposed the guidelines, pushed by the European Union, to dilute safeguards against the trans-boundary movement of e-waste.
a) 1 & 2 only
b) 2 & 3 only
c) 1 & 3 only
d) all of the above
Q4. Consider the following statements regarding teen pregnancy and nutriton related study conducted by International Food Policy Research Institute :
1) According to the study, children born to adolescent mothers had higher prevalence of low weight as compared to those born to adult mothers.
2) The study said that lower education levels among adolescent mothers had the strongest impact on stunting levels, followed by their socioeconomic status.
3) While adolescent pregnancy is more likely to occur in low poverty contexts, it could help mothers escape from an unending cycle of poverty as women who bear children early are given care by peer groups and are also benefitted from social sector schemes provided by the government.
Which of the above statements are true ?
a) 1 & 2 only
b) 2 & 3 only
c) 1 & 3 only
d) all of the above
Q5. The Communications Compatibility and Security Agreement (COMCASA), which India signed last year would enable exchange of information on preventing threats from all forms of terrorism both from land and sea. COMCASA allows India to procure specialised equipment for encrypted communications from the origin military platforms.
With which country has India signed the COMCASA agreement ?
a) China
b) Saudi Arabia
c) United States
d) Israel
Answer:
1(d), 2(b), 3(c), 4(a), 5(c)