Current Affairs MCQ for UPSC Exams - 25 December 2019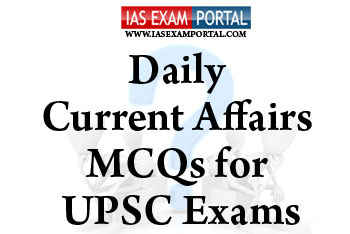 ---
Current Affairs MCQ for UPSC Exams - 25 December 2019
---
Q1. Which of the following statements regarding GST council are true ?
1) Article 279A (4) specifies that the Council will make recommendations to the Union and the States on the important issues related to GST, also the goods exempted from the Goods and Services Tax.
2) Cabinet Secretary is appointed as the Ex-officio Secretary to the GST Council.
3) The Council will also set up anti-profiteering screening committees that will make the National Anti-Profiteering Authority stronger under the GST law.
a) 1 & 2 only
b) 2 & 3 only
c) 1 & 3only
d) all of the above
Q2. Consider the following pairs of tribes and their corresponding origin states :
1) Sugalis : Andhra Pradesh
2) Bhumij : Himachal Pradesh
3) Boro : Assam
Which of the above pairs are correctly matched ?
a) 1 & 2 only
b) 2 & 3 only
c) 1 & 3only
d) all of the above
Q3. Consider the following statements :
1) The IT Act 2000 was enacted with a view to give a fillip to electronic transactions, to provide legal recognition for e-commerce and e-transactions, to facilitate e-governance, to prevent computer based crimes and ensure security practices and procedures.
2) The government does not regulate content appearing on social network platforms. But, the social media companies are required to ensure that their platforms are not used to commit and provoke terrorism, extremism, violence and crime.
2) Social media and online platforms would need to enable tracing of originators of information whenever government agencies require them as per latest draft guidelines by IT ministry.
Which of the above statements are true ?
a) 1 & 2 only
b) 2 & 3 only
c) 1 & 3only
d) all the above
Q4. Consider the following statements with respect to Aadhar(Targeted Delivery of Benefits, Subsidies and Services)act :
1) A resident is a person who has resided in India for 90 days, in the one year preceding the date of application for enrolment for Aadhaar.
2) Biometric information such as an individual's finger print, iris scan and other biological attributes will be used only for Aadhaar enrolment and authentication, and for no other purpose.
3) At the time of enrolment, the individual will be informed of, (i) the manner in which the information will be used, (ii) the nature of recipients with whom the information will be shared, and (iii) the right to access this information.
Which of the above statements are true ?
a) 1 & 2 only
b) 2 & 3 only
c) 1 & 3only
d) all of the above
Q5. India has come at 108th position in the recently released Gender Gap Index 2018.The Gender Gap Index is released by which of the following global institutions?
a) World Bank
b) World Economic Forum
c) WTO
d) UNESCO
Answer :
1. (c) 2. (c) 3. (d) 4. (b) 5.(b)