Current Affairs MCQ for UPSC Exams - 27 December 2019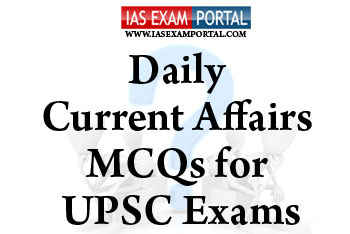 ---
Current Affairs MCQ for UPSC Exams - 27 December 2019
---
Q1. India is all set to cross the 100GW renewable energy capacity mark in 2020 and can make rapid strides towards the ambitious 175GW clean energy target by 2022. Which of the following statements regarding the same stands true ?
1 India's installed renewable energy generation capacity touched around 86GW by November2019. This includes solar, wind, small hydro, biomass, waste to energy and others.
2) Presently, the issues hampering growth of renewables in India are lack of interest of financial institution to fund renewable energy projects, safeguard duty on imported solar panels, ambiguity over goods and services tax (GST) on solar equipment and low investor sentiment due to delayed or non-payment by discoms to clean energy developers.
3) In order to give relief to power generation companies (gencos), the Centre enforced a payment security mechanism. Under this mechanism, discoms are required to open letters of credit for getting power supply.
a) 1 & 2 only
b) 2 & 3 only
c) 1 & 3 only
d) all of the above
Q2. Apart from Sugarcane for which FRP is declared by the Department of Food &Public Distribution, twenty two crops covered under MSP in India.
Which of the following crops are the ones covered under MSP programme by the government ?
1) Soyabean
2) Cotton
3) Wheat
4) Sunflower
5) Maize
a) 1,2& 3 only
b) 3,4 & 5 only
c) 1,3 & 5 only
d) all of the above
Q3. India and Oman signed a Maritime Transport Agreement recently. Which of the following statements regarding India-Oman relations stands true ?
1) India is among Oman's top trading partners, with bilateral trade reaching $5 billion in 2018-19. India was the largest importer of crude oil from Oman in 2019 as well.
2) Oman and India are linked by geography, history and culture. The two countries enjoy warm and cordial relations attributed to historical maritime trade linkages and close links of Oman's royal family with India.
3) Oman, India's oldest strategic partner in the Gulf, seeks to emerge as a hub for India for eastern Africa and the Indian Ocean Region, furthering New Delhi's Indo-Pacific strategy.
a) 1 & 2 only
b) 2 & 3 only
c) 1 & 3 only
d) all of the above
Q4. Which of the following statements regarding the recently submitted UN World Water Development Report regarding ground water resources stands true ?
1) Groundwater is the drinking water source for more than two billion people, and provides over 40 per cent of the water for irrigated agriculture worldwide.
2) Groundwater contamination disproportionately hits poor people with access to insecure drinking water sources -- often unprotected shallow groundwater resources.
3) However,groundwater represents only 10 per cent of the Earth's freshwater.
a) 1 & 2 only
b) 2 & 3 only
c) 1 & 3 only
d) all of the above
Q5. The tropical cyclone 'Phanfone' seen in news, caused large scale devastations in which of the following countries recently ?
a) Indonesia
b) Bali
c) Philippines
d) Chile
Answer :
1. (d) 2. (d) 3. (b) 4. (a) 5.(c)