(Eligibility) UPSC Recruitment of Enforcement Officer/ Accounts Officer at EPFO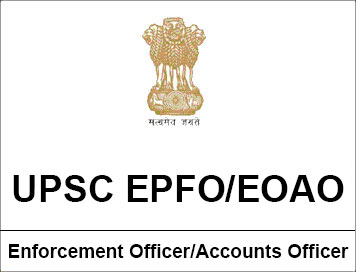 (Eligibility) UPSC Recruitment of Enforcement Officer/ Accounts Officer at EPFO
EDUCATIONAL QUALIFICATIONS:
(i) Bachelor's degree in Law/Integrated five (05) years' Degree in Law/Masters in Business Administration/Post Graduate Diploma in Management/Company Secretary/Chartered Accountant/Cost & Management Accountant.
(ii) Two years experience in Administration/Accounts/Legal Matters in any government or Listed-Private Organisation. DUTIES: Duties of Enforcement Officer/ Accounts Officer inter alia are to look after the work of Enforcement, Recovery, Accounts, Administration Cash, Legal Pension and Computer which includes the statutory and administrative functions like conducting inquiry, settlement of claims, general administration; maintenance of Cash Book/Administration : maintenance of Cash Book/Reconciliation of Bank statement : MIS returns etc.