(Jobs) NTPC Recruitment "Executive Trainees" Post through UPSC Civil Services Exam -2018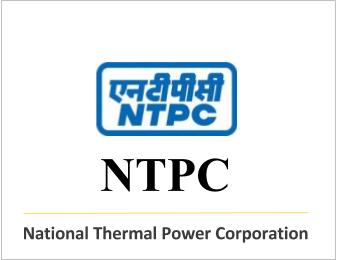 (Jobs) NTPC Recruitment "Executive Trainees" Post through
UPSC Civil Services Exam -2018
NTPC Ltd. is India's largest energy conglomerate with an installed capacity of 51,383 MW and is presently contributing to ye of the country's electricity needs. Commensurate with our country's growth challenges, NTPC has embarked upon an ambitious plan to attain a total installed capacity of 130 GW by 2032.
To fuel its ambitious growth plan, NTPC is looking for promising, energetic young minds with good academic record to join NTPC projects/stations as Executive Trainee-HR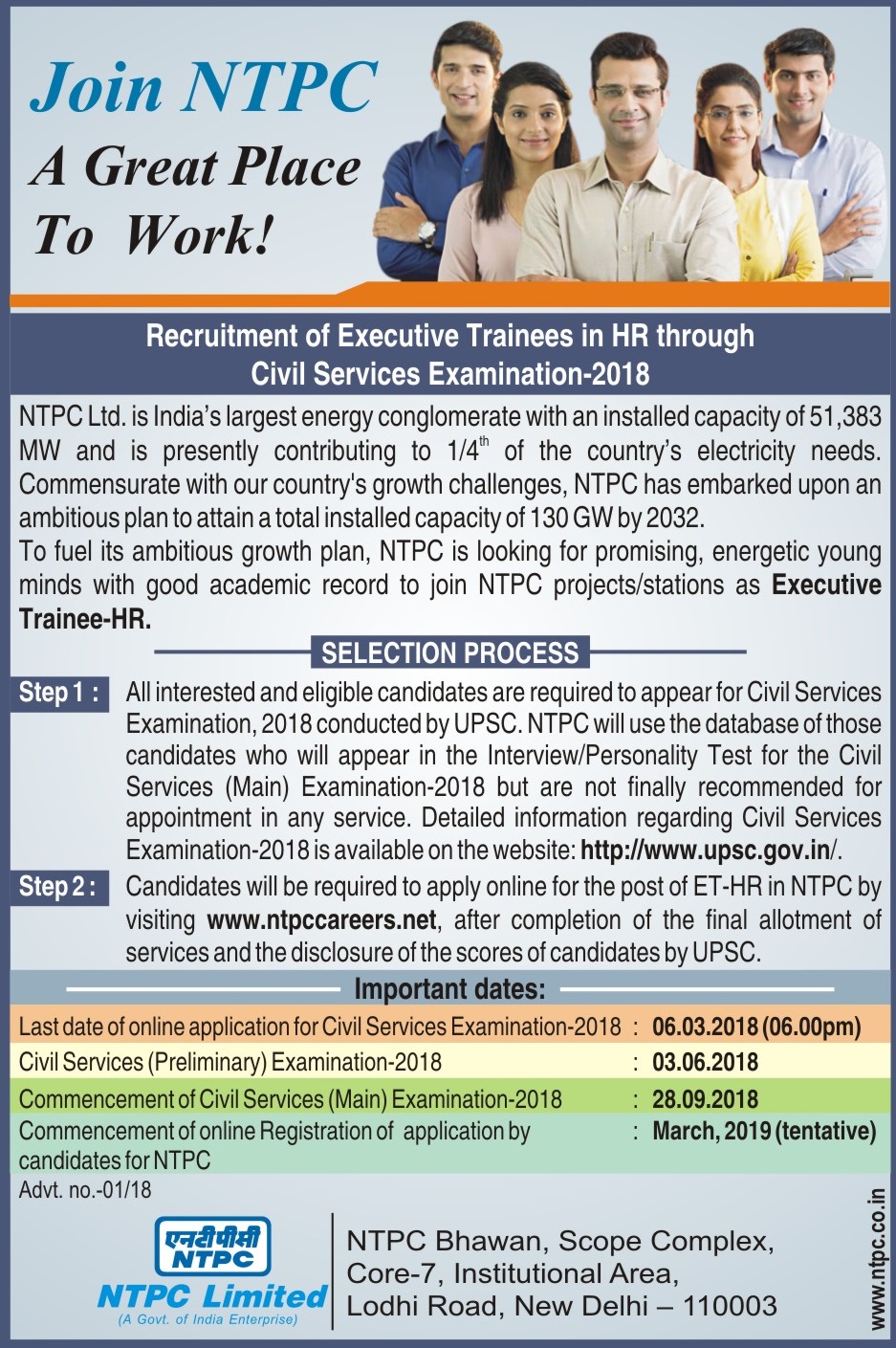 Selection Process :
Step 1 : All interested and eligible candidates are required to appear for Civil Services Examination, 2018 conducted by UPSC. NTPC will use the database of those candidates who will appear in the Interview/Personality Test for the Civil Services (Main) Examination-2018 but are not finally recommended for appointment in any service. Detailed information regarding Civil Services Examination-2018 is available on the website: http://www.upsc.gov.in/.
Step 2 : Candidates will be required to apply online for the post of ET-HR in NTPC by visiting www.ntpccareers.net, after completion of the final allotment of services and the disclosure of the scores of candidates by UPSC.
How to Apply :
To apply, visit www.ntpccareers.net and click on "Diploma Trainee – 2018" (Only online mode of application is entertained). Read the advertisement of the particular Region (available on home page) for which you wish to apply.
In case of General/ OBC candidates, please take the print out of copy of Payin-slip which is available on side menu and make the payment of Rs. 300/- towards registration fee in any branch of State Bank of India. Apply online only after making the payment at SBI and getting the Journal no. from bank.
Select the region & discipline for applying (Once selected, region and discipline cannot be changed).
The application form will appear in the screen. The candidate is required to fill up the application form. Candidate has to upload photograph (applicable for all), signature (applicable for all) & pay-in-slip (applicable for General/ OBC candidates) in .jpg format (max. file size can be 500 KB).
After filling the application form & uploading the jpg files as mentioned
above, the candidate will click on Preview button.
On clicking 'Preview' button, the confirmation page will appear. Here candidate can make some changes/correction in his application by clicking on 'back' button. If no changes are to be done, the candidate can click on 'Submit' button.
On clicking Submit button, Registration slip will be generated. Keep the
Registration slip for future reference. (No need to send the hard copy to us)
Important Dates :
Last date of online application for Civil Services Examination-2018 Civil Services (Preliminary) Examination-2018

06.03.2018 (06.00pm)
03.06.2018

Commencement of Civil Services (Main) Examination-2018

28.09.2018

Commencement of online Registration of application by candidates for NTPC
Advt. no.-01/18

March, 2019 (tentative)
Courtesy: NTPC