(Notification) UPSC: National Defence Academy & Naval Academy Examination (I), 2012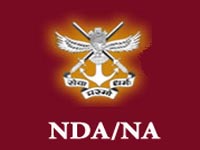 National Defence Academy & Naval Academy Examination (I), 2012
An Examination will be conducted by the Union Public Service Commission on 15th April, 2012 for admission to the Army, Navy and Air Force wings of the NDA for the 129th Course, and for the 91st Indian Naval Academy Course (INAC) commencing from December 2012. The candidates Joining Indian Naval Academy would undergo 4 years B.Tech Course and would be given an opportunity to join Executive and
Technical Branches of the Navy subject to availability of vacancies.
The approximate number of vacancies to be filled on the results of this examination will be 335 [(195 for the Army, 39 for Navy, 66 for the Air Force and 35 for Indian Naval Academy (10+2 Cadet Entry Scheme)]. Vacancies are provisional and may be changed depending on the availability of training capacity of National Defence Academy.
---

Important Links
 
Previous Year Question Papers
2010 Paper (I)
2010 Paper (II)
2009 Paper (I)
Disclaimer: We are not responsible for any damage done by this given information. However we have tried our best to provide accurate information to the candidates. If the above information creates any confusion, then please refer to the original notification.