(Report) Highlights of Union Budget 2017-18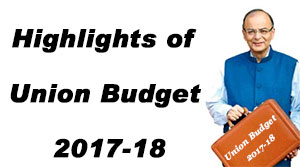 ---
(Reports) Highlights of Union Budget 2017-18
---
Finance minister Arun Jaitley presented the Union Budget 2017-18 in the Lok Sabha on 01-02-2017.
In the year 2017, for the first time,in indian history that the Railways Budget is part of the General Budget.
Here are the highlights of budget 2017-18
India stands out as a bright spot amid world economic gloom .
Those earning between ₹2.5 lakh and ₹5 lakh a year will now have to pay income tax at the rate of 5% instead of the earlier 10%, according to Finance Minister Arun Jaitley's Budget 2017-18 proposal.
Mr. Jaitley also announced that all the other categories of tax payers in the subsequent slabs will also get a uniform benefit of ₹12,500 per person.
He said the existing rebate for those earning ₹5 lakh or less will now be reduced to ₹2,500 and available only to those earning an income of up to ₹3.5 lakh.
The Finance Minister has also proposed to levy a surcharge of 10% of tax payable on those whose annual taxable income is between ₹50 lakh and ₹1 crore.
The existing surcharge of 15% of tax on people earning more than ₹1 crore will continue.
Revenue deficit reduced to 2.1 pc from 2.3 pc for 2016-17
Govt pegs fiscal deficit target at 3.2 per cent for 2017-18 and 3 per cent for next year.
Merger of Railways Budget with General Budget brings focus on a multi-modal approach for development of railways, highways and inland water transport
Agricultural sector is expected to grow at 4.1 per cent this fiscal, says Jaitley
Plan, non-plan classification of expenditure done away with in the Budget for 2017-18 to give a holistic picture Our agenda for next year is to transform, energise and clean India
World Bank expects GDP growth rate at 7.6 pc in FY18 and 7.8 pc in FY19
Allocation under MNREGA increased to 48,000 crore from Rs 38,500 crore. This is highest ever allocation
Rs 9,000 cr higher allocation for payment of sugarcane arrears
Target of agriculture credit fixed at Rs 10 lakh cr in 2017-18
133-km road per day constructred under Pradhan Mantri Gram Sadak Yojana as against 73-km in 2011-14
National Testing agency to conduct all examinations in higher education, freeing CBSE and other agencies
Govt to set up dairy processing fund of Rs 8,000 crore over three years with initial corpus of Rs 2,000 crore
Participation of women in MNREGA increased to 55 pc from 45 pc in past
Dedicated micro-irrigation fund to be created with a corpus of Rs 5000 crore
Sanitation coverage in villages has increased from 42 pc in Oct 2016 to 60 pc, a rise of 18 pc, says FM
We propose to provide safe drinking water to 28,000 arsenic and fluoride affected habitations
To construct one crore houses by 2019 for homeless. PM Awas Yojana allocation raised from Rs 15,000 cr to Rs 23,000 cr
100 pc electrification of villages to be completed by May 2018
27,000 cr on to be spend on PMGSY; 1 cr houses to be completed by 2017-18 for houseless
PM Kaushal Kendras will be extended to 600 districts; 100 international skill centres to be opened to help people get jobs abroad
The allocation for rural agri and allied sector in 2017-18 is record Rs 1,81,223 crore
Two new AIIMS to be set up Jharkhand and Gujarat
In higher education, we will undertake reforms in UGC, give autonomy to colleges and institutions
1.5 lakh health sub centres to be converted to Health Wellness Centres
National Housing Bank will refinance indiviual loans worth Rs 20,000 crore in 2017-18
Rs 500 cr allocated to set up Mahila Shakti Kendras; Allocation raised from Rs 1.56 lakh cr to Rs 1.84 lakh cr for women & child welfare.
Capital and development expenditure pegged at Rs 1.31 lakh cr for railways in 2017-18 from Budget
IMF estimates world GDP will grow by 3.4 per cent in 2017 .
36 per cent increase in FDI flow; forex reserves at USD 361 billion in January enough to cover 12 months needs.
1 crore households to be brought out of poverty under Antodya Scheme
Model Shops and Establishment Bill to open up additional opportunities for employment of women
For senior citizens, Aadhaar based health cards will be issued.
35 per cent increase in allocation for SC to Rs 52,393 crore
Allocation for SCs increased from Rs 38,833 cr to Rs 52,393 crore, a rise of 35 per cent
Railway line of 3,500 km will be commissioned in 2017-18 as against 2,800 km in 2016-17
A scheme for senior citizens to ensure 8 per cent guaranteed returns
Rs 1 lakh cr corpus for railway safety fund over five years
Unmanned railway level crossings to be eliminated by 2020
Government proposes Coach Mitra facility to redress grievances related to rail coaches
Select airports in tier-II cities to be taken up for operations, development on PPP mode
Service charge on e-tickets booked through IRCTC will be withdrawn
Railway tariffs to be fixed on the basis of cost, social obligation and competition.
Crude oil strategic reserves to be set up in Odisha and Rajasthan apart from 3 already constructed
For transport sector, including railways, road and shipping, government provides Rs 2.41 lakh crore.
Allocation of Rs 10,000 crore for Bharat Net project for providing high-speed broadband in FY18
Coverage of Fasal Bima Yojana to go up from 30 pc of cropped area to 40 pc in 2017-18 and 50 per cent next year
Digi Gaon will be launched to promote tele-medicine and education
Second phase of solar power development to be taken up with an aim of generating 20,000 MW
Trade Infrastructure Export Scheme to be launched in 2017-18; total allocation for infra at record Rs 3.96 lakh crore.
FIPB will be abolished.
Rs 2,74,114 crore allocated for defence expenditure, excluding pension; This includes Rs 86,000 crore for defence capital.
Computer emergency response team to be set for cyber security of financial sector.
Govt will amend the Multi-state Cooperative Act to protect the poor and gullible investors
Govt to double lending target under PM Mudra Yojana to Rs 2,44,000 crore for 2017-18
Govt doubles distribution target under Mudra Yojana to Rs 2.44 lakh crore for 2017-18
3 yr period for long-term capital gains tax on immovalble property reduced to 2 years; base year indexation shifted from 1.4.1981 to 1.4.2001
FRBM review committee has recommended 60 per cent debt to GDP ratio; 0.5 per cent of GDP deviation from stipulated fiscal deficit targets
Head post offices to issue passports
Total expenditure in FY18 at Rs 21.47 lakh croreDuty exempted on various POS machines and iris readers to encourage digital payments.
Capital expenditure stepped up by 25.4 per cent in FY18 over previous year.
Maximum amount of cash donation a political party can receive will be Rs 2000 from any one source as part of effort to clean political funding.
Political parties can receive donations in cheque, electronic mode; electoral bonds to be issued by RBI
FPI to be exempt from indirect transfer provisions
Customs duty on LNG halved to 2.5 per cent
Revenue deficit reduced to 2.1 per cent from 2.3 per cent for 2016-17
Direct tax collection not commensurate with income and expenditure pattern
Of 3.7 cr individuals who filed tax returns in 2015-16, 99 lakh showed income below exemption limit.
For senior citizens, Aadhar cards giving their health condition will be introduced .